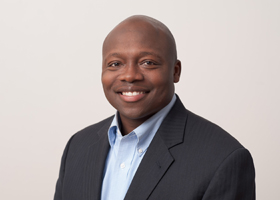 Wilson L. White, public policy and government relations senior counsel at Google, will give a free lecture as part of the Drake Intellectual Property Law Center's Big IDEA Speaker Series.
The lecture, titled "Legal and Public Policy Implications of Artificial Intelligence," is scheduled for Thursday, Feb. 9 at 3 p.m. in Cartwright Hall, Room 203.
White counsels Google's Android, Google Play, communications, and hardware businesses on public policy issues. He also leads the company's global policy strategy for emerging tech issues around artificial intelligence, virtual reality, and Internet of Things. He previously worked on Google's patent litigation team.
Prior to joining Google, White worked as a patent litigator at Kilpatrick Townsend & Stockton LLP in Atlanta and as a law clerk to The Honorable Alexander Williams Jr. on the U.S. District Court for the District of Maryland. He is also an adjunct professor at the University of Maryland, where he teaches undergraduate and graduate courses on the legal aspects of entrepreneurship.
White earned his B.S. in Computer Engineering from North Carolina State University and his J.D. with honors from the University of North Carolina at Chapel Hill School of Law.
"We are excited to welcome White to campus to speak about new ideas in artificial intelligence," said Shontavia Johnson, Kern Family Chair in Intellectual Property Law and director of the Drake Intellectual Property Law Center. "He is one of the top experts in the United States in this field, so this is a great opportunity for our faculty, staff, students, and the Des Moines legal community."
This event has been approved for 1 hour of CLE credit (Activity Number: 253014).
Launched in fall 2016, the Big IDEA Speaker Series brings renowned intellectual property law experts to Drake University's campus to share their ideas about innovation and entrepreneurship. All lectures are free and open to the public.
Other upcoming Big IDEA Speaker Series lectures include:
Charles Monterio, LW'04, intellectual property partner at Blank Rome LLP
March 30, 3 p.m., Cartwright Hall, Room 201
Wade Leak, senior vice president, deputy general counsel and chief compliance, and ethics and privacy officer at Sony Music Entertainment
April 6, 3 p.m., Cartwright Hall, Room 201
Nichole Biglin Hayden, LW'04, of counsel at Nelson Mullins Riley & Scarborough LLP
April 20, 5 p.m., Cartwright Hall, Room 206
---
The Drake Intellectual Property Law Center was launched in fall 2007 to promote global, interdisciplinary understanding of intellectual property law and policy. The center was established with the support of a $1.5 million gift from Wayne, LW'72, and Donna Kern, which endowed the Kern Family Chair in Intellectual Property Law, and a $750,000 leadership commitment from DuPont Pioneer.
Learn more about the Intellectual Property Law Center.