Drake University will host a free conference examining how local, state, national, and international demographics will change in coming years. Though the theme was chosen long before the presidential election, organizers say the conference is particularly relevant in the weeks after President Donald Trump's controversial executive order restricting immigration and travel.
The 2017 Engaged Citizen Experience Conference, "Demographic Opportunities and Challenges: Domestic and International," will be held Friday, Feb. 24, beginning at noon in the upper level of Drake's Olmsted Center, 2875 University Ave. The event is free and open to the public; advance registration is requested via the conference website.
"The conference theme was chosen because it was reflects much of what's going on in the world right now," said Associate Provost for Curriculum and Assessment Arthur Sanders. "From the movement of refugees and immigrants to changing growth rates everywhere, the theme is broad enough to find examples at various local, national and international levels."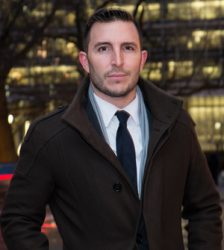 The conference will address a variety of topics, including a multi-track breakout session. A keynote speech will be delivered by Justin Gest, assistant professor of public policy at George Mason University, author of Apart: Alienated and Engaged Muslims in the West, and The New Minority: White Working Class Politics in an Age of Immigration and Inequality. The keynote presentation will begin at 12:30 p.m. in Parents Hall North, Olmsted Center.
Breakout sessions will address the following topics:
Deferred Action for Childhood Arrivals (DACA), presented by Lourdes Gutierrez Najera, assistant professor of anthropology. This session examine the future of DACA (an American immigration policy started by the Obama administration in June 2012) under the current Trump administration. Additionally, Najera will touch on diverse topics such as globalization, borders and borderlands, transnational migration, oral history, and Latinos in the United States.
Survival Beyond Arrival: Refugees in Des Moines, presented by Renee Sedlacek, director of community engagement and service learning. This session will shed light on the difficulties of life for refugees after moving to the United States of America.
Changing Depictions of Immigrants in Television Situation Comedies, presented by Joan McAlister, associate professor of rhetoric. McAlister's session will address the noticeable shift in the way television entertainment programming is dealing with minorities. McAlister will use her research on Congressional hearings, popular films, national news coverage, magazine advertisements, urban planning, reality television, legal documents, and architecture to highlight the relationship between rhetoric and social location.
Black Lives Matter, presented by Erin Lain, associate professor of law at Drake Law School. The session will explore the nature of the Black Lives Matter movement, which is now almost four years old. The Black Lives Matter movement in Iowa has provided commentary on public policy at the local, state, and national levels. Partnering with local members of the Black Lives Matter movement, this session will paint a picture of the history of the movement in Iowa and discuss the movement's future.
This year's conference is sponsored by the Drake University Engaged Citizen Experience, David and Carol Golder, the Golder Family Foundation, and the Ronald and Jane Olson Endowment for Global Service-Learning.
More information is available online.