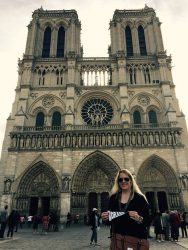 Every year, more than a million people board planes at the Des Moines International Airport. Another million touch down in Iowa's capital city. As an airport communications assistant with the Des Moines Airport Authority, Tara Ely helps keep this global gateway running smoothly. Her versatile skill set affords her a wealth of opportunities, from writing daily communications to airport inquiries to updating the website and social media accounts to overseeing volunteers and ensuring security procedures are in compliance with Department of Homeland Security regulations.
Ely's time in Drake's Master of Public Administration program enhanced her work in every aspect of her job, which she's held since 2009. She previously received an undergraduate degree at one in-state liberal arts college and a master's from another in-state university; she says the education she received at Drake was particularly relevant to her job.
"Of the three institutions at which I've studied, Drake's program was the most applicable to the business world—especially for someone like me, who does work and volunteerism across the private and nonprofit sectors," Ely says. "Every day I would leave class, go right back to work, and tell my boss what I've learned."
Her favorite moments of the MPA program involved another intersection between work and school—when she hopped a plane at the airport for one of several study abroad opportunities.
"So much of my learning was overseas," Ely says. "Even though I had a full-time job and was just going to Drake part-time, the borders of my education went far beyond the borders of Drake's campus."
In October 2016, Ely was selected to join the "48 Hours as a Diplomat" peace-building workshop organized by the Rotary International France-USA Inter-Country Committee.
Supported in her application by C. Kenneth Meyer, the Thomas F. Sheehan Distinguished Professor of Public Administration, Ely was one of eight U.S. students to participate in the program in Paris. Participants were paired with students from France and given 48 hours to draft an innovative solution to prevent threats to peace within the context of "safeguarding cultural heritage as a tool for peace building."
In Ely's case, she and her French colleague presented on ways governmental organizations and other stakeholders can preserve cultural heritage during times of conflict: for example, what groups like the United Nations, UNESCO, and Interpol, can do if religious relics are stolen or bombed during war or unrest. While in Paris, Ely met with high-level business leaders and the U.S. ambassador to France, visited the Paris Military Academy, and attended a conflict negotiation seminar.
"I made lifelong friends and professional connections," Ely says, "and the program inspired me to apply public administrations principles to a number of work areas—from navigating workplace conflicts, to considering how airports can play a bigger role in cultural preservation and peace-keeping."
Earlier in her MPA studies, Ely attended the program's annual European Travel Course (twice), which each time spent more than two weeks abroad. Her tours visited Geneva, London, Paris, Barcelona, and Wales, among other European cities. This past year the theme was social entrepreneurship and the group learned what schools like Cambridge, Oxford, and INSEAD are studying, as well as meeting with various public leaders and social entrepreneurs.
Like many employers, the Des Moines International Airport paid for much of Ely's studies through a tuition assistance program. With courses on nights and weekends, the MPA program was convenient for Ely, and her boss was flexible enough in scheduling to accommodate the supplemental travel opportunities.
"[Drake's MPA program] is a win-win for the employee and the employer," said Jim O'Donnell, airport operations and security manager. "Tara's education and life experiences complemented and enhanced the services we provide for the flying public. I commend Tara for her efforts, and I commend Drake for their training and learning op