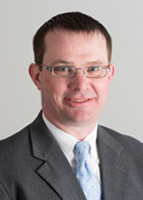 Andrew Jurs, professor of law at Drake University Law School, was recently named chair of the Association of American Law Schools (AALS) Section on Evidence.
Jurs was appointed to the leadership position at the AALS Annual Meeting in San Francisco in early January.
The AALS is a nonprofit association whose mission is to uphold and advance excellence in legal education. Drake Law School was one of 32 charter members of the AALS when it was formed in 1900; today more than 9,000 faculty from 179 law schools are part of the organization.
The Section on Evidence is one of the AALS's numerous groups representing various areas of interest in legal education.
As chair of the section, Jurs will facilitate the communication of ideas, interests, and activities among members; oversee intellectual programming and events; and make recommendations to improve the field of evidence law. He has served on the executive committee for the section since 2015.
"I am honored to have been selected to lead the section," said Jurs. "It is an excellent chance to raise awareness of important issues in the field of proof, and I look forward to working with the executive committee to plan an outstanding panel for next year's conference."
Prior to joining the Drake Law faculty in 2011, Jurs worked as an assistant attorney general for the State of Colorado, associate at the Johnson, McConaty & Sargent law firm, and deputy district attorney for Colorado's 18th Judicial District. He also taught at Wake Forest University School of Law.
His areas of expertise focus on evidence, science and the law, and criminal law and procedure, and he has published articles in the Indiana Law Journal, Connecticut Law Review, and the Stanford Journal of Complex Litigation, among others.
At Drake Law School, Jurs is the inaugural director of faculty development and has served as chair of the Faculty Appointments Committee. He was named the Law School's Leland Forrest Outstanding Professor of the Year in 2014.
Jurs received his J.D. from the University of California, Berkeley, School of Law and his B.A. from Stanford University.
For more information about Jurs, visit his faculty profile.