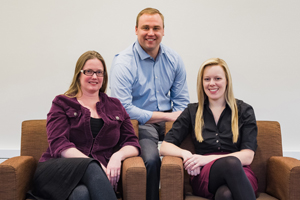 Thanks to the work of Drake University Law School students, one man's life sentence was recently commuted to 30 years by President Barack Obama.
As part of the Law School's Federal Criminal Law course last spring, students drafted an application for commutation for Myron Dejuan Orr, who in November 2009 received a mandatory life sentence without parole for a nonviolent drug offense.
According to Angela Campbell, co-founder of Dickey & Campbell Law Firm P.L.C. and adjunct professor at Drake Law School who taught the course, Orr would not have received a life sentence had he been sentenced today under new U.S. Department of Justice guidelines.
After learning that Orr did not meet the criteria to be helped by the Clemency Project 2014—a group of lawyers and advocates who provide pro bono assistance to complete clemency petitions—Campbell decided to take on Orr's application as part of her course.
"I thought Mr. Orr was deserving to have an application filed for him, given his life sentence and relatively low-level offense," Campbell said. "Without the class doing the application, Mr. Orr would not have had the assistance of counsel."
After receiving Orr's permission, Campbell assigned students to work on the project. The students went over his file and communicated with Orr via telephone to gather details about his upbringing, his arrest, and his trial experience.
"We looked at the crime and Mr. Orr's criminal history, and then calculated what his sentence would be today according to current federal sentencing guidelines," said Kate Hurley, a second-year Drake Law student from Pleasant Hill, Iowa.
Once the students collected the information, they began putting together the application.
According to Jake Oeth, a second-year Drake Law student from Ogden, Iowa, the application included general questions about Orr's offenses and what life changes he would make if his petition were granted. The students wrote an argument for why he deserved a commutation and requested that Orr receive a reduced sentence more consistent with today's sentencing standards.
The class sent the application to Orr to approve, then submitted it to the U.S. Department of Justice in April 2016.
"Professor Campbell was ultimately responsible for the application, but we got the hands-on experience of obtaining the information and figuring out how to make the best argument on behalf of Mr. Orr," Oeth said.
On Jan. 17, Obama released a list of commutations as part of his power of executive clemency, including one for Orr. The commutation dropped Orr's sentence to 360 months, conditioned upon enrollment in residential drug treatment.
Campbell informed the students of the news and spoke with Orr, who asked her to relay his "great appreciation" to the class.
"It was a great feeling to learn that we received a good outcome for Mr. Orr," Hurley said. "It was a very rewarding experience, and I'm thankful to Professor Campbell for the opportunity."
Oeth says the process helped students better understand sentencing guidelines and procedures at the federal level.
"It really put a human face on sentencing reform issues," Oeth said of his experience working on the application. "We talk about the criminal justice system in a broad sense in law school, but it was really informative to see the personal impact that the system can have on an individual."