Troy Trygstad, who received his Pharm.D. and M.B.A. degrees from Drake University and a Ph.D. in Pharmaceutical Outcomes and Policy from the University of North Carolina, now serves as vice president of pharmacy programs for Community Care of North Carolina (CCNC). Under Trygstad, CCNC's Network Pharmacist program has grown to include more than 80 pharmacists. CCNC also provides comprehensive medical care for 1.4 million Medicaid recipients through its more than 1,800 participating primary care providers in a "Medical Home" model of care delivery.
At Drake, Trygstad had a faculty mentor, Lon Larson, late professor of pharmacy administration, who inspired him to pursue the field of pharmacoeconomics. Trygstad, a long-time North Carolina Tar Heels fan, then applied and was accepted into the Pharmacoeconomics program at the University of North Carolina. He jumped at the opportunity to enter the graduate program, where he would spend half of his time in the school of pharmacy and half in school of public health.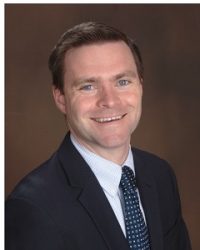 "I walked in on day one of my rotation project [at UNC], heard about CCNC and their concept of a medical home, and from that moment I knew I would do my dissertation project on them—I hadn't even started school yet," said Trygstad.
CCNC became a passion that he carried through the remainder of his education and into his career. At CCNC, Trygstad has co-developed a web application through which pharmacists, nurses, and other health care professionals share information about patients' medications and care histories. The application, PHARMACeHOME, allows these healthcare providers—who often work in different locations—to view the same patient narrative in a format they can all understand.
"The concept behind the PHARMACeHOME platform is to focus on the narrative of drug use," said Trygstad. "A list of medicines does not describe a patient's drug use—for example, you can have two people living across the street with the same three conditions, who are the same gender and age, are employed by the same company, have the same prescribers and medications, but they might have two completely different drug use patterns, experiences, beliefs and responses. … As a clinician, I can draw from another [health care clinician's] narrative of a patient successfully, I am already 80 percent of where I need to go with a new patient and I'm not starting from scratch. This approach to studying and recording drug use patterns builds comradery and co-dependency among healthcare professionals, which is critical for the profession of pharmacy."
Trygstad then co-created the Care TriageTM logistics engine, which organizes interventions and interventionists based on predictive models. The Care TriageTM logistics engine and the PHARMACeHOME platform are both currently utilized in more than 40 settings of care with more than 4,000 distinct users.
Currently, Trygstad spends additional time serving as project director for a Center for Medicare and Medicaid Innovations project that aims to pay community pharmacies differently and help integrate them into the rest of the medical care team.
"We are having a lot of fun with the project as it is exciting and professionally fulfilling to see these innovative community-based pharmacies re-ignite their entrepreneurial spirit.  Ultimately it's all about them…they are the one's doing the innovating and good work, we are just hoping to help the marketplace realize their value," said Trygstad.
Trygstad advocates that his strong connection with Lon Larson, and experiences at Drake were kick-starters to his successful career. He feels it was the right move to take Larson's advice and obtain a Ph.D. in Pharmaceconomics, because without it, CCNC and Trygstad would have not made the inseparable (and fateful) bond they now form.