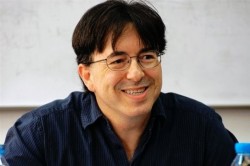 David Skidmore, professor of political science, is co-author of a new textbook called International Political Economy: The Struggle for Power and Wealth in a Globalizing World.
The 522-page work, published by Routledge, was co-written by Thomas D. Lairson, visiting professor of political science at Jindal Global University and emeritus professor of political science at Rollins College.
The book includes endorsements by four university professors, including Gregory White, the Mary Huggins Gamble Professor of Government at Smith College, who writes:
"This book is by far the most comprehensive, insightful, and accessible introduction to the rapidly expanding field of international political economy. The authors expertly draw upon both theoretical perspectives and real-world experience to offer an analysis of global political economy that is unsurpassed by any other textbook."
The work discusses the reach and significance of globalization, examines sources and consequences of global financial instability, explores the origins and consequences of global inequality, and compares various strategies of development and state roles in economic competitiveness.
The book also discusses the role of key international economic institutions, considers the impact of the rise of China on the global economy and the potential for war and peace, and illustrates collective efforts to fight hunger, disease, and environmental threats.
Skidmore serves as director of the Principal Center for Global Citizenship and the R.W. and Mary Nelson Institute for Diplomacy and International Affairs, both at Drake University. He is past director of the Drake Curriculum and First Year Seminar programs. His research and teaching interests lie in the areas of international political economy, American foreign policy and international relations theory.
Skidmore is author, co-author or editor of six books including, most recently, a monograph titled The Unilateralist Temptation in American Foreign Policy (Routledge, 2011), and has published numerous articles or chapters in various academic journals and books. Skidmore blogs at: https://skidmoredrake.wordpress.com.
Skidmore received his Ph.D. from Stanford University and taught at Hamilton College and the University of Notre Dame before arriving at Drake in 1989. During the 1996-1997 academic year, he taught at the Johns Hopkins-Nanjing University Center for Chinese and American Studies in Nanjing, China. In 2010-2011, he served as a Fulbright Scholar at the University of Hong Kong. His other travels have taken him to Egypt, Burma, Malaysia, Thailand, Vietnam, Cambodia, England, Mexico, Costa Rica, Argentina, Chile, Jamaica, Nicaragua, Turkey and Brazil.