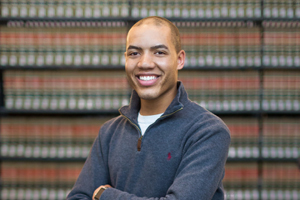 When Thomas Tolbert graduated from Drake Law School this December, he felt confident about entering the legal profession.
After all, he has already tried six felony jury trials.
The Wichita, Kan., native recently completed an internship with the Polk County Attorney's Office in Des Moines, Iowa. He was first hired in January 2016, working primarily in the traffic docket on cases such as speeding, drag racing, and the unlawful passing of a school bus.
After a summer internship with the U.S. Attorney's Office for the Southern District of Iowa, Tolbert returned to the Polk County Attorney's Office in the fall semester for an advanced internship.
Over the past several months, Tolbert has tried felony cases involving robbery in the first degree, theft in the second degree, and more. During numerous trials, he provided the opening statements as well as direct examinations of witnesses.
"It's pretty exciting," he says. "Being able to get up in front of a jury and give your opening statement gives you confidence that you can do anything after that point."
Tolbert credits his trial advocacy course at Drake Law School with providing him the skills he needed to succeed in the internship.
"My trial advocacy professor was Jeffrey Noble (LW '90), a current assistant Polk County attorney. His knowledge and how he taught us how to do things was very helpful in preparing me to do this type of work," Tolbert says.
Tolbert also gained experience through participating on one of Drake's arbitration teams, which recently placed third at the regional ABA Law Student Division Arbitration Competition in Omaha, Neb.
After graduation and passing the bar, Tolbert plans to work as an assistant county attorney. He says his internship experiences have helped him become a better lawyer.
"You have to really think of these arguments and be able to put the pieces together," Tolbert says. "From where I was a year ago when I was just getting into trial work versus now—it's completely different. My advocacy skills have improved so much because of the level of preparation that's required."