Good luck on finals
and have a great and restful winter break!
— The Drake SJMC faculty and staff
2017 Upper Midwest Emmy Scholarship available
The Upper Midwest Emmy Chapter offers scholarships to college students who have completed at least two years of school and are majoring in electronic media.  The grants will be used for tuition and fees. See the Emmy website for more information and the scholarship application, which is due Feb. 6.
Drake bids farewell to Chilean students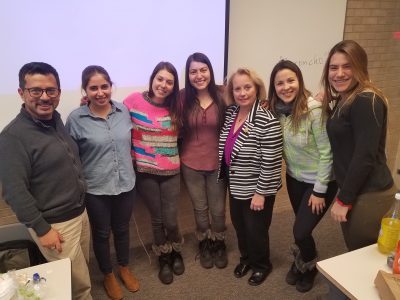 Advertising professor Dorothy Pisarski and Spanish professor Eduardo Garcia hosted a farewell gathering for five education students from University of the Andes in Santiago who spent the fall semester at Drake.
Drake Community Action Board seeks input
The Drake Community Action Board is attempting to identify barriers that hinder better relations between Drake students and the Drake Neighborhood. The board is conducting a survey to inquire about such issues as student perceptions of the neighborhood, factors that influence those perceptions and whether they change during students' time at Drake. The resulting report will be used to build the foundation for a meaningful and sustainable partnership between Drake University and the Drake Neighborhood.
Please help by filling out the survey at this link.