Stand out from the crowd: Tips from the pros
A professional panel will present today (Monday, Nov. 21) at 6 p.m. in Mer. 106 on what it takes to get an internship or job, and how to assemble a winning portfolio. Panelists include:
Claire Celsi, Communications Consultant/Public Relations Princess
Josh Fisher, Iowa Wild
Dustin Kass, Local Content Editor, Dubuque Telegraph Herald
Rod Petersen, News Director, WHO-TV
Samantha Smith, Inbound Marketing Consultant, Spark Reaction
Special emphasis will be put on portfolios and how to use LinkedIn. A short networking opportunity with the panelists will follow at 7 p.m. in the Meredith breezeway outside 106.
Sign up for SJMC networking bus trip to Minneapolis
The SJMC's annual student bus trip will visit Minneapolis for agency visits and networking on Friday, Dec. 2 and Saturday, Dec. 3. The schedule tentatively includes stops at the Olson and Space 150 agencies, along with alumni networking and a gathering with prospective students, professional visit and exploration at the Mall of America. See Professor Kelly Bruhn or SJMC administrative assistant Shari Tenney for details.
Help build a better campus library
Drake faculty, staff and students are being encouraged to help Cowles Library in its facility planning project. Take a brief poll to help Cowles Library improve its services. There are gift incentives!
'The Press, the Polls and the Presidential Campaign 2016'
Public opinion researcher J. Ann Selzer and political expert David Yepsen will discuss the fallout of the 2016 presidential campaign in a wide-ranging discussion at Drake University on Tuesday, Nov. 29.
"The Press, the Polls and the Presidential Campaign 2016: Where Do We Go From Here?" will begin at 7 p.m. in the Cowles Library Reading Room. The event is sponsored by the Drake School of Journalism and Mass Communication.
Selzer runs the nationally recognized Iowa Poll, and Yepsen is retired director of the Paul Simon Public Policy Institute at Southern Illinois University and former Des Moines Register political reporter. They will discuss media and polling coverage of the campaign, why the results of the election seemed to catch so many in the national polling and journalism establishments by surprise, and the effect on the professions' credibility. There will be plenty of time for audience questions.
How Drake brought Drake to Drake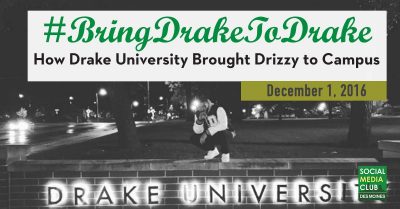 The Des Moines Social Media Club is sponsoring a presentation by Drake University Communications staff on "How Drake University Brought Drizzy to Drake" on Thursday, Dec. 1, at 5:30 p.m. in Mer. 106. Drake students can get in free by RSVPing in advance or showing their Drake ID at the door.