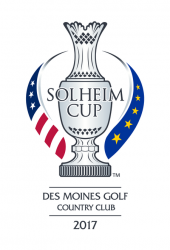 Top marketing students at Drake University and Creighton University will compete this month to tee up exciting promotional ideas for a major Midwest golf event.
The marketing competition sponsored by Drake's College of Business and Public Administration is called the Murphy Cup, and each year it brings teams of students from Drake and Creighton together in a contest to solve a real-world problem for a major organization. Previous clients include Yahoo!, Better Homes and Gardens, and Nike.
This year from Nov. 17-19, the young minds will take a swing at increasing awareness and attendance for the 2017 Solheim Cup. The most prestigious tournament in women's professional golf is a global, match-play event akin to the Ryder Cup. It will be held at  Des Moines Golf and Country Club from Aug. 14-20, 2017.
Twelve students from each university have been chosen to compete in this year's Murphy Cup. Each team, which includes a blend of students from Creighton and Drake, will prepare a marketing plan that outlines the 2017 Solheim Cup's target audience, objectives, advertising tactics, and strategies for community engagement.
"We're eager to make the 2017 Solheim Cup here in Iowa the best it's ever been. It will be exciting to see the fresh ideas these talented marketing student bring to us in support of that goal," said Chris Garrett, 2017 Solheim Cup Tournament Director.
Drake senior Karter Smith, a marketing and management double-major and member of the men's golf team, will be competing in the Murphy Cup. He was already looking forward to the competition, before he learned who the client would be—but it's particularly exciting to be able to help promote such a high-profile event in the sport that he loves.
"The Murphy Cup is beneficial because it gives us the opportunity to work on a real-world problem and solve it in a short period of time. Having those project-management and problem-solving skills is helpful," Smith said. "After I graduate, it would be awesome to work in the golf industry, including maybe the marketing side of the golf industry, so it'll be interesting to represent the Solheim Cup as our client for the Murphy Cup."
The Murphy Cup is the vision of Chris Murphy, a Drake University alumnus and member of the Creighton University Board of Trustees. Murphy, the chairman and CEO of First Westroads Bank in Omaha, covers all event expenses and accommodations through a generous gift to the Drake CBPA.
"One of the greatest experiences I had as an undergraduate student at Drake occurred in a semester-long course that afforded me and my classmates the opportunity to deal with a live product and client," Murphy said. "I wanted to replicate this valuable experience for students."
Murphy will serve on the panel of judges, which includes:
Emily Abbas, chief marketing officer at Bankers Trust, a two-time Drake University alumnus (1997 and 2009)
Mary Edrington, associate professor of practice in marketing at Drake University
Chris Garrett, tournament director at the Solheim Cup
Louis Laurent, president of ZLR Ignition, a 1976 Drake University alumnus
Joe Yamen, Shelter Insurance Agency owner in West Des Moines, a 1991 Drake alumnus
While the event was designed to be mostly business, the students have plenty of opportunities to network.
"We anticipate that the relationships formed through this year's Murphy Cup will endure well into the future," said Andrew Norman, associate professor of marketing at Drake University.