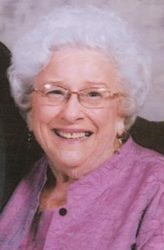 Beatrix (Bea) Havens Smith, a 1950 alumna and prominent benefactor of Drake University Law School, passed away on Oct. 31 at Calvin Community in Des Moines.
A visitation will be held Nov. 3 from 4 to 7 p.m. at Altoona United Methodist Church in Altoona, Iowa (602 5th Ave SW). Funeral services will be held Nov. 4 at 10 a.m. at the same church followed by a family burial at Packwood Cemetery in Packwood, Iowa.
Bea and her husband Neal Smith generously supported Drake Law School throughout their lives, the impact of which is visible today for Drake Law students, faculty, and alumni.
The couple was instrumental in helping Drake Law School receive several congressional appropriations to support clinical education, which allows Drake Law students—supervised by experienced faculty—to represent low-income persons who need legal assistance.
These appropriations helped endow the Drake Legal Clinic, which currently includes clinical programs in the areas of children's rights, elder law, criminal defense, civil practice, and transactional business/non-profits.
In addition, the funding allowed for a new home to Drake Law School's legal clinic. Named the Neal and Bea Smith Law Center, the 40,000-square-foot building includes classrooms, conference rooms, offices, a library, and atrium. The building also has a courtroom with state-of-the-art technology, which is available for trials and appellate court hearings that are typically open for student observation.
"We are grateful for Bea Smith's support of Drake Law School over her entire life," said Jerry Anderson, Drake Law School dean. "Neal and Bea Smith's contributions are commemorated in the Neal and Bea Smith Law Center and clinical programs, which aptly carry on the cause of justice to which this extraordinary couple dedicated their careers."
About Bea Smith:
After receiving her B.A. from Grinnell College, Bea attended Drake Law School as one of only three women in her class. She graduated in 1950 along with her husband Neal, whom she married in 1946.
Neal and Bea both received offers from an insurance company, but they declined because Bea would have been paid $100 per month less because she was a woman. Instead, the couple decided to go into private practice together.
Bea practiced law in the Smith and Smith law firm until her appointment in 1952 as the first woman probate clerk in the Iowa District Court of Polk County. In 1955, she rejoined Neal as a lawyer in the firm of Clarke, Smith and Emery in Des Moines.
Neal was elected to the U.S. Congress in 1958 and served until 1995, setting the record as the longest-serving Iowan in the House of Representatives. Bea was very much a partner in Neal's success, and served as a leader in numerous human service and civic initiatives in both Iowa and Washington, D.C.
Among her many involvements, Bea was active in the League of Women Voters for the Des Moines metro area, the American Legion Auxiliary of Altoona, Des Moines Women's Club, PEO Sisterhood in Altoona, and served on the Council of Central Place for the Southeast Polk Community School District.
In Washington D.C., Bea was a member of and held offices in the Democratic Congressional Wives Forum, Congressional Wives Prayer Group, and the 86th Congress Club. She was also a past president of the Congressional Club, which is open only to spouses of members of Congress, the Cabinet, and Supreme Court.
During the Vietnam War, Bea was chair of the Congressional Club committee that sponsored luncheons and tours on Capitol Hill for wounded servicemen. She was involved with organizations such as Recording for the Blind, Big Sisters of the Metropolitan Area, and Washington Area Hospices, in addition to volunteering at Children's Hospital and serving as a special aide to teachers in inner-city schools.
For their accomplishments as well as support of Drake Law School, Neal and Bea Smith were named Drake Law Alumni of the Year in 1987 and recognized at the law school's annual Supreme Court Celebration.
Those left to carry on Bea's memory are her husband Neal, her son Doug (Janet), her daughter Sharon VanderSchel (Kevin), as well as six grandchildren, 11 great-grandchildren, and one great-great granddaughter.