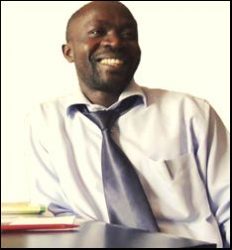 Ugandan educator and public speaker Francis Kamuhanda will lecture on education and the role it plays in child development in Uganda during a free public lecture at Drake University.
Kamuhanda will outline his approach to educating children with disabilities during "Changing the Story of Disability in Africa: SURE Prospects School and Inclusive Education in Uganda," a lecture scheduled for 7 p.m. Wednesday, Nov. 9, inside Olin Hall room 101, at 1344 27th St., Des Moines, at Drake University. The event is free and open to the public; no tickets are required.
Kamuhanda is the founder and Headmaster of SURE Prospects Elementary School in Uganda. He founded SURE Prospects 20 years ago with a vision to provide a school environment where typically-abled children would be educated alongside children who have both intellectual and physical disabilities; Kamuhanda has dubbed this idea the 'blended' school technique.
"In Uganda, people living with disabilities have trivial accommodations," said Jimmy D. Senteza, associate professor of finance and chair of the finance department at Drake University. "They are looked down upon and shunned by society, and Francis wanted to give these children some hope by designing a school curriculum that will allow them to become useful members of society."
Lecture attendees will learn specifically how Mr. Kamuhanda, who has a physical disability himself, has overcome many obstacles in establishing SURE Prospects and in his own personal life. Additionally, attendees will hear the specific challenges of 'blending' the educational experience at SURE Prospects and about the benefits of this approach.
"This lecture will appeal to lots of different constituencies – to folks interested in education and more specifically special education, and also to anyone who is interested in intercultural communication," said Glenn McKnight, associate professor and chair of the department of history at Drake. "It will also appeal to people interested in entrepreneurial studies because I would characterize what Francis has done with SURE Prospects as an example of social entrepreneurship."
Drake's College of Arts and Sciences and College of Business and Public Administration established educational partnerships with SURE Prospects eight years ago. Since then, undergraduate students taking the summer travel seminar course "Sustainable Development in Africa" spend three weeks studying sustainable development at Ugandan schools including SURE Prospects, at public and private hospitals in Uganda, and with members of the Ugandan Parliament.
This lecture is presented by Drake University student-led organization Delta Sigma Pi, a professional fraternity organized to foster the study of business in universities.