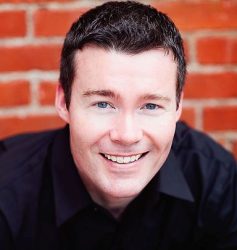 Jeffrey Brown, associate professor of piano at Western Illinois University, will present the next concert of Drake University's Keys to Excellence Piano Series. The free concert is scheduled for 7:30 p.m. Monday, Nov. 14, in Sheslow Auditorium, featuring the following selections:
Sonata No. 1 in C Major, Op. 1
Johannes Brahms
Piano Sonata I.X.1905 "From the Street"
Leoš Janáček
Sonata for Piano, Sz. 80
Béla Bartók
Brown will also present a public masterclass at 2 p.m. Sunday, Nov. 13, in the Patty and Fred Turner Jazz Center. The session is free and open to the public.
About the Performer
Jeffrey Brown has performed throughout the United States, Europe, and Asia as a solo recitalist, chamber musician, and soloist with orchestras. Recent performance highlights include the Dame Myra Hess Series in Chicago, the Kennedy Center in Washington D.C., a recital tour of the U.S. and Canada sponsored by the Metropolitan Opera Guild of New York, and a series of chamber music recitals in China with members of the Virginia Symphony.
He is a graduate of the Eastman School of Music, where he earned the Performer's Certificate, a Master of Music, and a Doctor of Musical Arts. He studied with Natalya Antonova and served as her teaching assistant, and he pursued chamber music studies with Jean Barr. His early training was with Jane Allen at the University of Missouri. As a winner of the Eastman Concerto Competition, he performed the Barber Piano Concerto with the Eastman Philharmonia. He has also been a prizewinner in the Kosciuszko Chopin Competition, the Corpus Christi International Young Artists' Competition, the Iowa International Piano Competition, the Kneisel German Lieder Competition, and was a recipient of the Artist Presentation Society Award of St. Louis.
He is an active member of the Music Teachers National Association and other local and regional organizations committed to community engagement and education, and he enjoys presenting masterclasses and lectures at universities, conservatories, and community music schools throughout the United States. He currently serves as Associate Professor of Piano at Western Illinois University where he teaches piano, piano literature, and piano pedagogy.
The Keys to Excellence Piano Series was created to raise awareness of Drake's fundraising efforts for the purpose of 70 brand new Yamaha pianos for the music department. It brings internationally acclaimed artists to perform on the Yamaha CFX concert grand at Drake University.
The series is supported by Yamaha, West Music, Civic Music Association, and Drake University. For more information, contact Nicholas Roth at 515-321-5947 or nicholas.roth@drake.edu
KEYS TO EXCELLENCE PIANO SERIES 2016-17:
OCTOBER 24: Lori Sims – Western Michigan University
NOVEMBER 14: Jeff Brown – Western Illinois University
NOVEMBER 28: Nicholas Roth – Drake University
JANUARY 23: Quentin Kim – Pusan National University (South Korea)
MARCH 6: Alan Chow – Northwestern University
MARCH 20: Alexander Djordjevic – Music Institute of Chicago
All performances begin at 7:30 p.m. in Sheslow Auditorium and are free and open to the public.