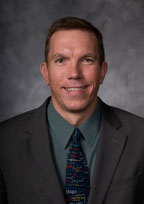 Mark Vitha, professor of chemistry and a Windsor Professor of Science at Drake University, published a new textbook titled "Chromatography: Principles and Instrumentation."
Chromatography is a physical method of separation that involves passing a mixture through a medium in which the components of the mixture move at different rates. The process separates the mixture into its individual components, allowing those components to be analyzed.
Vitha's book, published by John Wiley and Sons, Inc.:
Provides students and practitioners with a grounding in the theory of chromatography, important considerations in its application, and modern instrumentation;
Highlights the primary variables that practitioners can manipulate, and how those variables influence chromatographic separations; and,
Includes multiple figures that illustrate the application of these methods to complex chemical samples like food products and gasoline.
The book differs from the traditional encyclopedic textbook on instrumental analysis by providing a focused monograph on chromatographic techniques. Vitha is currently working on a complementary book about spectroscopy. The long-term goal is to provide a modular and less expensive series of books as an alternative to the comprehensive, expensive textbooks currently available.
Vitha joined the Drake faculty in 1998. He teaches courses in general chemistry, quantitative analysis, and instrumental analysis, and co-teaches a January Term course on Art and Chemistry with Professor of Art and Design Maura Lyons. He has been awarded the university's Troyer Research Fellowship, was named a Windsor Professor of Science, and has received the Madelyn M. Levitt Teacher of the Year Award and the Honors Program's Teacher of the Year Award.
He has co-edited two books: "High Throughput Analysis for Food Safety" and "Interfaces and Interphases in Analytical Chemistry" and has published 28 articles related to his research on the types and strengths of intermolecular interactions that govern chromatographic retention and solvatochromic shifts in spectroscopy. Recently, he has become interested in the application of analytical chemistry to the study of artworks.
Vitha is also the editor of the Chemical Analysis Series—a series of nearly 200 monographs on analytical chemistry and its applications published by John Wiley and Sons. The series reflects the breadth of analytical chemistry, deepens understanding of existing techniques, and fosters the development of new analytical instrumentation, methodologies, and applications.