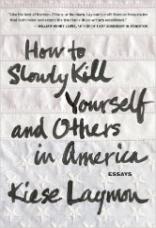 A black southern writer whose work bridges the worlds of high culture and pop culture will meet with Drake University students this fall and deliver a free public reading on Drake's campus.
Kiese Laymon will read from his award-winning collection of nonfiction essays, How to Slowly Kill Yourself and Others in America, at 7 p.m. Wednesday, Oct. 26, in Cowles Reading Room of Cowles Library, 2725 University Ave., as part of Drake English Department's Writers & Critics Series. The event is free and open to the public.
Laymon's collection was adopted as Drake's Humanities Reads series, sponsored by Drake's Center for the Humanities, with faculty teaching the text in classes ranging from creative writing, to religion, to gender studies, to law, politics, and society.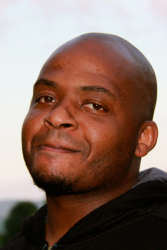 Laymon also is author of the novel Long Division, which was named one of the Best of 2013 by Buzzfeed, Salon, the Chicago Tribune, and several other outlets. He has written essays, stories, and reviews for numerous publications including ESPN the Magazine, Colorlines, NPR, The Los Angeles Times, PEN Journal, and Ebony.
"He's very 'of the moment,'" said Yasmina Madden, visiting instructor of English. "As a cultural critic and a very respected literary writer, he speaks to a broad swath of the population—with work that fits just as well in Esquire as it does in The Best American Essays."
How to Slowly Kill Yourself and Others in America takes on issues of race, class and gender through evocative accounts of family, violence, celebrity, music and writing. Laymon's own experience of being young and black in America is the center of the narrative.
While on campus, Laymon will meet with students in Drake's CREW Scholars program, which provides academic and social support for students of color. He'll also meet with a number of cultural organizations, including the Coalition of Black Students and La Fuerza Latina.
In Madden's creative writing classes, she has seen Laymon's book resonate with students of color in a way that more traditional texts—those in the popular Western canon, often by white, male authors—may not.
"As faculty members who prepare students to succeed as responsible global citizens, we need to be teaching authors who represent voices and experiences that aren't always represented in the classroom, or aren't represented enough," Madden said. "I've seen the effect it has on students, and it's remarkable."
Debra DeLaet, professor of political science, is integrating Laymon's work into a class session on structural racism and human rights in her course on Human Rights and World Politics.
She said the work will humanize the topic for students, and center the discussion on the United States.
"It is essential for students to learn about the kinds of structural human rights violations, including racism and gender discrimination, that are embedded in everyday life in countries across the globe," DeLaet said. "Structural racism in the United States represents one of those human rights challenges that is critical to address in a course on human rights."
DeLaet's students will attend the October 26 public reading—and she encourages members of the public to attend as well:
"Stories of how individuals actually experience human rights violations and injustice can help generate the kind of empathy that motivates real understanding and the possibility of working for cultural change."