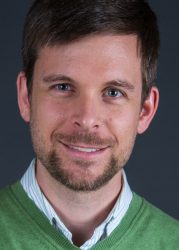 Michael Haedicke, associate professor of sociology at Drake University, recently was selected as the recipient of a Fund for the Advancement of the Discipline (FAD) award by the American Sociological Association (ASA). Haedicke will receive $8,000 to support his research on the social and political organization of coastal restoration initiatives in southeastern Louisiana.
Supported by the ASA and the National Science Foundation, FAD awards provide scholars with "seed money" for innovative research that has the potential for challenging the discipline, stimulating new lines of research, and creating new networks of scientific collaboration. The award is intended to provide opportunities for substantive and methodological breakthroughs, broaden the dissemination of scientific knowledge, and provide leverage for acquisition of additional research funds.
"The FAD grant is very significant going forward in my research as it allows me to continue and complete my project at a much quicker pace than I'd otherwise be able to do," said Haedicke.
Haedicke will use his grant money to travel to coastal southeastern Louisiana twice to conduct interviews with both supporters and critics of the state's restoration efforts. He says that although he has friends and family in Louisiana, it was his work in the classroom that led him to begin his research.
"In January of 2015 I led a travel J-Term seminar called 'Sustainability and Social Justice on the Gulf Coast' to the New Orleans area. As part of that seminar I began to explore the issues about which I'm doing research and I made some of the connections with people that I was able to build on when I began doing interviews for my research," said Haedicke.
In his return trips to Louisiana, Haedicke will meet with several key stakeholder groups and leaders of the state's coastal restoration process to investigate how they interpret the goal of coastal restoration. He plans to meet with policy-makers, state and national level administrators, local business leaders, coastal scientists, and people who are critical or opposed to the state's restoration efforts.
"At Drake, my research will be able to provide examples to illustrate broader ideas that I discuss in classes," said Haedicke. "It will also be interesting and useful to people in other coastal areas that are experiencing or will experience similar effects of climate change and will need to adapt to the same sort of challenges that Louisiana is adapting to right now."
Haedicke also plans to use his research to redesign, reshape and extend his classes at Drake, and to develop new courses on environmental governance in the context of climate change. He expects to depart for his next trip to Louisiana in May 2017.
Previous research
Earlier this year, Haedicke published a new book that explores how farmers, small business owners, regulators, and other stakeholders navigate conflict in the organic food industry.
"Organizing Organic: Conflict and Compromise in an Emerging Market" (Stanford University Press, 2016) leverages 10 years of research to explain how key players balance competing narratives within the industry: one that positions organic farming as a social and political movement poised to shake up big, traditional agricultural institutions; and another that emphasizes organic food's potential for market growth and profit.