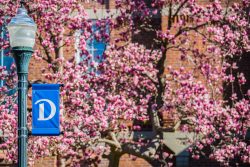 U.S. News & World Report has ranked Drake University third for overall quality among universities in the Midwest.
The organization's Best Colleges 2017 rankings, released today, also named Drake an "A+ School for B Students" and placed Drake among the top colleges for excellence for military veterans. Nationwide, only four of the 653 universities in Drake's rankings category had a higher peer-generated ranking for academic quality; five universities have an equivalent peer ranking.
Drake falls into US News' largest category of regional universities, which the publication subcategorizes by universities in the North, South, Midwest, and West. The category includes universities which award at least 50 percent of degrees in the liberal arts disciplines and which award both undergraduate degrees and master's degrees.
"The U.S. News Best Colleges rankings provide a highly visible affirmation that we are one of the finest institutions of higher education in the Midwest," said Drake University President Marty Martin. "The Drake experience is distinguished by life-defining opportunities that are so successful, we've made them our commitment: That every student benefits from personal mentorship, an educational environment enhanced by community service, the flexibility to explore their personal and professional interests, and the opportunity to build a strong resume through internships and undergraduate research."
This year's rankings noted an increase in the percentage of classes with fewer than 20 students (52 percent), and a decrease in the percentage of classes with more than 50 students (4 percent).
Also this week, College Factual ranked Drake University second for overall quality among Iowa's private colleges. The outlet released its 2017 rankings on Thursday, Sept. 8, in partnership with USA Today. They placed Drake within the top 5 percent of colleges and universities nationwide with the highest paid journalism alumni, and within the top 10 percent of schools nationwide among 19 categories, including overall best value in The Plains States; best value for programs including business, finance, management, marketing, international business, visual and performing arts, design and applied arts, and English language and literature; and highest paid graduates in education, mathematics, and statistics;
The new rankings complement a set of national accolades last year which recognized Drake as one of the nation's best values in higher education.
The Economist ranked Drake University 17th out of 1,275 institutions of higher education for return on investment in 2015, placing Drake in the 98th percentile for four-year, non-vocational American colleges and universities.
A 2015 report by the Brookings Institution placed Drake in the 97th percentile nationwide for the value that private colleges and universities add to projected mid-career earnings. Brookings found that a Drake degree adds more than 32 percent to the projected mid-career earnings of demographically similar graduates from institutions with similar characteristics.
Among Drake's 2015 bachelor's degree recipients, 98.9 percent had a job or graduate school acceptance within six months of graduation. Ten years after entering Drake, graduates earn almost $20,000 more than peers nationally (Department of Education College Scorecard)—No. 1 in the state of Iowa.
Prospective students are invited to learn more about Drake's undergraduate programs, and schedule a campus visit, at www.drake.edu.