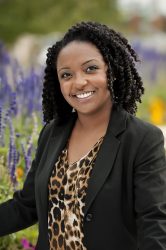 Shontavia Johnson, the Kern Family Chair in Intellectual Property Law and director of the Intellectual Property Law Center at Drake University Law School, has been named one of the nation's top young lawyers by the American Bar Association (ABA).
Johnson was selected to the ABA's inaugural Top 40 Young Lawyers list, which recognizes young lawyers who exemplify high achievement, innovation, vision, leadership, and legal and community service.
Johnson's areas of expertise include intellectual property, entrepreneurship, and innovation. In addition to her work as professor and director of the Intellectual Property Law Center at Drake Law School, she has founded two entrepreneur-centered companies, Johnson International Group and Jackson Johnson LLC.
A trained mediator and arbitrator, Johnson has also served as a consultant and/or counsel to startups and large corporations, and she is registered to practice before the United States Patent and Trademark Office.
Johnson previously was named an Inspiring Woman in STEM by INSIGHT Into Diversity Magazine, one of the Nation's Best Advocates: 40 Lawyers Under 40 by the National Bar Association and IMPACT, and was named a Higginbotham Fellow by the American Arbitration Association.  Read more in a full news release on the Drake Law School website.