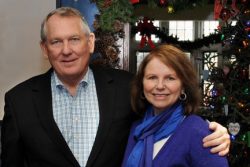 The Robert D. and Billie Ray Center at Drake University will issue its highest honor to Iowa philanthropists Patty and Jim Cownie.
A selection committee of more than 50 people chose the Cownies to receive this year's Robert D. Ray Pillar of Character Award, which will be presented during The Ray Center's 2016 Iowa Character Awards Dinner on Friday, July 29, at The Meadows Events and Conference Center in Altoona.
The awards reflect former Iowa Gov. Robert D. Ray's lifelong commitment to civility and character development. It was initially presented to Ray in 2003 for his exemplary character, visionary leadership, and commitment to advancing the mission of Character Counts in Iowa. The award was then named after Ray as the founder and board chairman of The Ray Center.
The Cownies have been advocates of The Ray Center since its inception as Character Counts in Iowa in 1997. When Governor Ray first approached the Cownies about the concept of Character Counts in Iowa, Jim Cownie became instrumental in the development of the program's business model and vision for the future. He continues to provide guidance to the organization.
Patty Cownie has demonstrated a lifelong commitment to volunteerism. She served on Drake University's Board of Trustees from the 1999-2000 to 2013-2014 academic years and currently serves on the Iowa Board of Regents.
Jim Cownie is the founder of Heritage Communications, which became one of the nation's largest cable operators before being sold to Tele-Communications, Inc., and owner of JSC Properties. He was inducted to the Iowa Business Hall of Fame in 2001.
Patty and Jim Cownies' contributions of time and resources have made a significant impact on numerous organizations including the Iowa State Fair Blue Ribbon Foundation, Meals from the Heartland, and Bravo Greater Des Moines.
Nominators said the Cownies demonstrate good character as well-known business professionals and philanthropists in central Iowa.
The Ray Center will deliver 12 awards in 9 categories during the July 29 Iowa Character Awards dinner. The full list of awards and recipients includes:
Educator of Character: Frank Merz, a math and science instructor who taught in northwest Iowa for more than 30 years.
Organization of Character: Train to Inspire, Des Moines, a nonprofit organization that serves individuals who deal with adversity in order to improve their social, physical, and emotional health.
School of Character:  Poynter Elementary School, Waterloo Community School District, Waterloo
Citizen of Character: Ethan Eiler and Joe Reck, co-founders of Blank Tales, which helps members of the Des Moines homeless community to share their stories.
Hennry Ohr, founder of Ethnic Minorities of Burma Advocacy and Resource Center (EMBARC), which provides assistance to Burmese refugees who resettle in Iowa.
Pursuing Victory with Honor Award: Kingdom Cares, a Des Moines-based inclusive youth basketball program.
Aaron Eilerts Community Service Award:  Hank Bohling, a Greenfield teenager who leads a number of community projects including Holiday Mail for Heroes, which distributes holiday cards to military veterans and troops around the world.
Character Champion: Brooke Rabon, KDSM Fox 17, Des Moines
Partner of the Year: Hormel Foods
Robert D. Ray Pillar of Character: Patty and Jim Cownie
The Robert D. and Billie Ray Center at Drake University promotes leadership, civility, and ethics through applied research, programming, training, and scholarly publications.