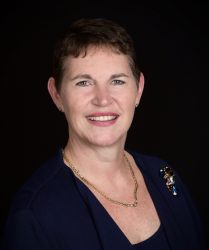 Terri Vaughan, dean of the Drake University College of Business and Public Administration, recently was listed among the most influential people in the insurance industry. The July 2016 issue of Best's Review, a monthly magazine covering the industry, profiled Vaughan among 24 key influencers "who saw new ways of doing things and took risks to go in new directions."
Vaughan was named in recognition of her work as CEO of the National Association of Insurance Commissioners from 2009 to 2012. In that role, she "helped steer the organization through the recovery years after the Great Recession, helping identify, develop prioritize, and achieve regulatory modernization and other key initiatives."
Vaughan was the longest-serving commissioner in Iowa history and in 2012 served as the chair of the Joint Forum based in Basel, Switzerland, a group of banking, insurance, and securities supervisors created to address cross-sector and financial conglomerate issues, the article noted.
Vaughan's deep connections to the Drake CBPA include faculty roles as the Robb B. Kelley Distinguished Professor of Insurance and Actuarial Science from 2005-2009, and director of the Drake Insurance Center—now known as the EMC Insurance Center for Insurance and Risk Management—from 1988 to 1994. She was named teacher of the year by the CBPA in 1994.
"I was fortunate to spend the formative years of my career at Drake, where my colleagues encouraged a commitment to solving real world problems, and that philosophy stuck with me," Vaughan said. "Now, as dean, I work on a new set of challenges in the changing world of higher education, still energized by Drake's exceptional and innovative students and faculty."
At least one other influencer named by Best's Review had a prominent connection to Drake's CBPA. Ellen Thrower directed of Drake's Insurance Center immediately prior to Vaughan—from 1984 to 1988—and was an associate professor in the CBPA.
Following her time at Drake, Thrower became president of The College of Insurance and led the school through its 2001 merger with St. John's University. The school was renamed The School of Risk Management, Insurance, and Actuarial Science; she retired in 2010 as executive director of the School of Risk Management. In 2011, the school's Board of Directors honored her by naming its new student center the Ellen Thrower Center for Apprenticeship and Student Services.