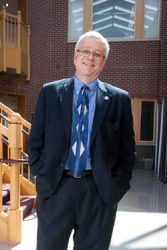 Jerry Foxhoven, executive director of the Neal and Bea Smith Legal Clinic and professor of law at Drake University Law School, was recently named the 2016 recipient of the Friend of Children Award from the Coalition for Family and Children's Services in Iowa.
The annual award acknowledges the importance of voluntary contributions to Iowa's child welfare and juvenile justice system.
The Coalition for Family and Children's Services in Iowa was founded in 1979 to provide an "organized vehicle for member agencies to improve services and impact public policy through combined resources and a unified voice."
The state-wide organization serves children and families in all of Iowa's 99 counties. Its alliance of agencies provides a safety net to youth who have been abused or neglected, are delinquent, or have mental health needs.
"I am deeply honored and humbled to be given this award from the Coalition for Family and Children's Services in Iowa," said Foxhoven. "This is a wonderful partnership of individuals and organizations who work with children and families every day and make a difference in so many lives."
Foxhoven, a 1977 alumnus of Drake Law School, joined the Law School faculty in 2006 as director of the Joan and Lyle Middleton Center for Children's Rights before taking over as director of Drake's legal clinic in 2008.
Foxhoven has been active in children's rights issues on a local and national level for more than two decades. He has lectured at nearly 200 professional seminars and trainings for educators, law school professors, attorneys, judges, social workers, and other professionals.
He is also active in the legislature, most recently helping pass a bill in Iowa to make most juvenile records confidential. He frequently provides his expertise in the media and has published numerous articles on the topics of children's rights, juvenile law, adoption and foster care, and more.
Foxhoven was recently appointed co-chair of the Children's Mental Health and Well-Being Workgroup, which is working to develop the first-ever children's mental health system in Iowa. He also serves as chair of the Iowa Child Protection Council, member of the Iowa Child Policy Coalition, and member of the national advisory board for Fostering Families Today magazine.
In addition, he serves on the board of directors for the Iowa Child Abuse Prevention Council and was appointed by Iowa Supreme Court Chief Justice Mark Cady to the steering committee for the Guardianship and Conservatorship Reform Task Force.
Among his many accolades, Foxhoven has received the American Dreams Award from the Iowa Friends of Foster Children Foundation, the Champion for Children Award from Prevent Child Abuse Iowa, and the Angel in Adoption Award from the Congressional Coalition on Adoption Institute.
For more information about Foxhoven, visit his faculty profile.