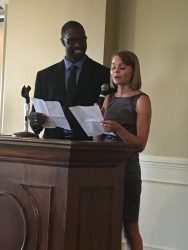 Elizabeth Bald is currently a fourth-year PharmD student at Drake University where she has distinguished herself with many academic achievements. In addition to her involvement in many volunteer roles in the community, Elizabeth has served as Chairperson of the Drake Pharmacy Unified Group of Students (DRxUGS), is an active member of Phi Lambda Sigma, Rho Chi, APhA-ASP and Des Moines Student Healthcare Partnership (DSMSHP). She is an active member of Central Iowa Pharmacy Association, participated in the Bill Burke Leadership Conference and was a Max W. Eggleston Executive Intern in Association Management.
Elizabeth served on the College of Pharmacy and Health Sciences Dean Search committee, Legislative Advisory Committee as well as various other planning committees on Drake's campus. As stated by her nominator: "Elizabeth is eager to learn and displays professionalism, a commitment to patients, and an intellectual curiosity that forms a foundation for both her self-motivation and enthusiasm for learning."
In tribute to the leadership and service provided by the late Jerry Karbeling, the IPA Foundation has established a special award for student pharmacists at Iowa's two Colleges of Pharmacy. The award is designed to recognize two student pharmacists (one from Drake University and one from the University of Iowa) for their contributions to professional organizations and the political process. Each College of Pharmacy submits one nomination to the IPA Board of Trustees recognizing the most deserving P3 student who has made significant contributions to the political process and professional organizations as a student pharmacist.