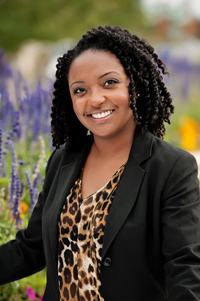 Shontavia Johnson, professor of law at Drake Law School, has been selected as a recipient of INSIGHT Into Diversity's 2016 Inspiring Women in STEM Award.
INSIGHT Into Diversity, the oldest and largest diversity magazine and website in higher education, aims to spark meaningful conversations about the critical role of diversity in higher education.
The publication's annual Inspiring Women in STEM Award honors women across the country who work to make a difference in the fields of STEM through mentoring, teaching, research, programs, and initiatives.
Johnson, who will take over as director of the Intellectual Property Law Center and Kern Family Chair in Intellectual Property Law at Drake Law School on July 1, engages young people in STEM fields in both her professional work and the community.
In her intellectual property law courses, Johnson teaches law students how to help scientists and inventors patent their ideas. She has coordinated events featuring STEM components for middle and high school students and volunteers for community groups with STEM-related initiatives.
In addition, Johnson is the founder of a non-profit organization dedicated to exposing students from underrepresented groups to various career options, including those in STEM fields. She serves as a faculty advisor to the Student Intellectual Property Law Organization and recently sat on the board of directors of both the Iowa Intellectual Property Law Association and the Science Center of Iowa.
Johnson also engages with students through the Jackie Robinson Foundation (JRF) and spoke about intellectual property careers as a panelist on the JRF Law School and Legal Careers Panel. JRF recently selected her as a recipient of the organization's 42 Alumni Under 40 Award.
"Shontavia has mentored and inspired many women and underrepresented groups in the intellectual property field," wrote her nominator. "She mentors students on Drake University's campus frequently, both at the Law School and undergraduate levels. She also serves as a mentor to young people who connect with her through various platforms."
Among her many accolades, Johnson has received the Ladas Memorial Award from the International Trademark Association, the Gertrude Rush Award from the Iowa Organization of Women Attorneys, and the Nation's Best Advocates: 40 Lawyers Under 40 Award from the National Bar Association and IMPACT. She is also a member of the National Black Lawyers-Top 100 professional honorary organization.
Most recently, Johnson was named a Fulbright Specialist Roster Candidate. The Fulbright program awards grants to U.S. faculty and professionals on the roster to engage in collaborative projects at institutions all over the world.
Before joining Drake Law School in 2010, Johnson worked as an intellectual property attorney at the law firm of Nelson Mullins Riley and Scarborough, LLP in Greenville, S.C., and was a Westerfield Fellow at Loyola University New Orleans College of Law. Johnson received her B.S. in Biosystems Engineering from Clemson University and her J.D. from the University of Arkansas.
For more information about Johnson, see her Drake Law School faculty profile.
Johnson will be recognized along with the other honorees in the September STEM issue of INSIGHT Into Diversity.