The American Pharmacists Association(APhA) Academy of Pharmacy Practice and Management (APhA-APPM) announced the results of its recent elections. Assistant Professor of Pharmacy Practice Wendy Mobley-Bukstein PharmD, BCACP, CDE, who teaches in the College of Pharmacy and Health Sciences at Drake University, was among the elected officers.
Mobley-Buckstein received her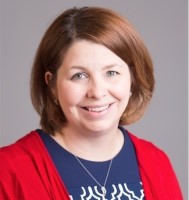 Doctor of Pharmacy degree from Drake University in 1999. She is APhA certificate trained in Diabetes Care, Immunization Delivery and Medication Therapy Management. Her teaching responsibilities include a Medication Therapy Management elective and several topics in the Pharmacy Skills and Applications course series. She is the course coordinator and teaches topics in the Self Care & Nonprescription Products course. She maintains a clinical practice at Primary Health Care East Side Clinic, a Federally Qualified Health Center, where she precepts third year IPPE students. Her specialty areas of practice and scholarship are diabetes care, medication therapy management and community health education. Prior to joining Drake, she was the instructor for a pharmacy technician course at Heartland Community College in Illinois and maintained a pharmacy practice at Hopedale Medical Complex. She is the coordinator for the American Pharmacist Association Special Interest Group on Diabetes Management, legislative liaison for the Iowa Coordinating Body of the American Association of Diabetes Educators and an active member of the Iowa Pharmacy Association.
The newly elected Officers will be installed at the 164th APhA Annual Meeting and Exposition in San Francisco, March 24-27, 2017. Click here to learn more about APhA-APPM and to see the other elected officers.