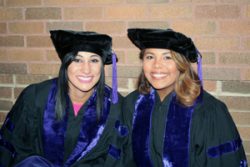 Drake University Law School held its Spring 2016 Commencement Ceremony on Saturday, May 14, in the Knapp Center.
Ben Ullem, dean of Drake Law School, and Marty Martin, president of Drake University, gave opening remarks.
Marshall Tuttle, president of the Student Bar Association, also gave a short speech, in which he emphasized how proud he is of his fellow graduates.
"I believe I am surrounded by some of the most talented and skilled future attorneys," Tuttle said. "I believe we have a future state senator, governor, or Iowa Supreme Court justice in this room. I believe in the Drake Law School Class of 2016."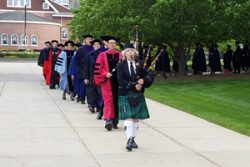 The commencement address was given by The Hon. Mark Cady, chief justice of the Iowa Supreme Court and a 1978 graduate of Drake Law School.
"This school is indeed a very special place in a very special moment in time," Cady said to the graduates. "The Supreme Court cherishes its relationship with the school and each of its students, and it has given me an opportunity to be with you many times over your three years."
Cady also gave the following advice to the graduates: Harness the full potential of technology in the justice system, support justice and the judicial process, and do what is right, even when it is not easy.
"I congratulate you on your achievement," Cady concluded. "Like your school, the justice system – with your help – will continue to grow."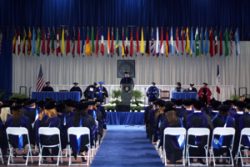 Ninety-six Drake Law graduates walked across the stage to receive their law degrees.
Drake interim provost Joseph Lenz and associate professor of law Anthony Gaughan, who was voted by the graduating class as this year's Leland Stanford Forrest Outstanding Professor of the Year, placed the academic hoods over the heads of each graduate on stage.
The ceremony closed with remarks by H. Raymond Terpstra II, LW'81, president of the Drake Law School Board of Counselors, followed by the singing of the Drake Alma Mater.
A reception was held for graduates, family, alumni, faculty, and staff after the ceremony at the Courtside Club in the Shivers Practice Facility.
See more photos of the commencement ceremony on Drake Law School's Flickr page.
Graduates: View your individual photos from Lifetouch Photography at events.lifetouch.com/drake.