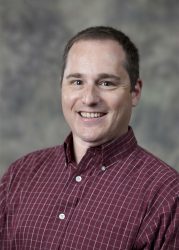 Todd Hodgkinson, assistant professor of secondary education, recently was named executive secretary of the Executive Council of the American Association for Teaching and Curriculum (AATC).
The AATC is a national organization founded in 1993 to recognize teaching and curriculum as a basic field of scholarly study and to create a national learned society for the scholarly field of curriculum and teaching. The Executive Council named Hodgkinson to the position after a call for nominations, a review of relevant documentation, and a period of time and reflection.
"My service to AATC, and specifically as executive secretary, is an opportunity for me to serve the profession at the national level," Hodgkinson said. "It is also an excellent opportunity for me to gain the experience I will need if I choose to explore career opportunities in higher education administration."
He hopes the experience will also help him to better advise working doctoral students on career planning and entering the field of higher education.
Hodgkinson received his Ph.D. from the University of Iowa in 2011, and joined the Drake faculty later that year. His research focuses on curriculum theory and design, as well as teacher education. Hodgkinson has been a long-term member of and contributor to AATC and counts, among his national presentations and peer-reviewed articles, several from the AATC's annual conference and its Journal of Curriculum and Teaching and Dialogue.
Hodgkinson will assume his new responsibilities following the AATC's mid-year Executive Council meeting in Grand Rapids, Mich., on May 26 and May 27. The organization hopes to continue to expand its membership and plans to hold its annual conference in October. In addition, the Executive Council plans to develop a series of position statements about key issues in the field of curriculum studies.
"We are truly excited about the wealth of knowledge and leadership capacity that [Hodgkinson] brings to the AATC," said president Bill White.
More information about AATC is available at http://aatchome.org/.