PR students present to community clients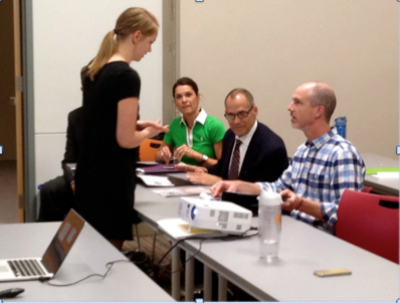 Kelly Leatherman presents her team's plan to (from left) Mary Van Heukelom, Dr. Richard Deming and Brad Anderson from Above + Beyond Cancer.
Students in multiple public relations classes presented course projects to community clients last week. Students in Professor Matt Thornton's PR Planning and Management class presented publicity plans to members of Above + Beyond Cancer, a cancer survivorship organization founded in 2011 by prominent Des Moines oncologist Dr. Richard Deming. The students developed public relations plans to help promote awareness of the cancer organization and its Optimal Living programs.
Students in Public Relations Writing pitched portfolios of their work to Hunger Free Dallas County representatives. The writing class has been working to create promotional materials for the newly formed initiative to help address the issue of food insecurity throughout Dallas County.
SJMC faculty, staff recognized for service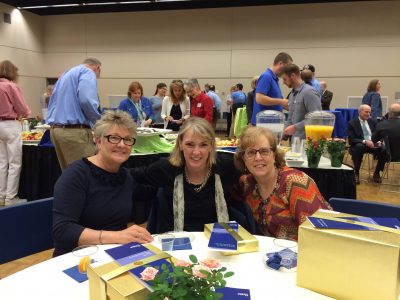 SJMC faculty and staff were honored for their service at the University's end-of-the-year recognition reception last week. From left: SJMC administrative assistant Shari Tenney (20 years), advertising Professor Sandy Henry (20 years) and retired SJMC dean's assistant Carla McCrea. In addition, SJMC technician Jeff Nichols celebrated 30 years at Drake and Tom Mills from Facilities, who works in Meredith Hall, celebrated 25 years. 
SJMC alumni news
"Middle of Somewhere," a podcast series featuring Iowa stories that was created by SJMC alums last summer, has just launched its second season. The podcast is the creative work of alums Rachel Vogel Quinn, Jess Hoffert, Annelise Tarnowski, Mario Rossi and Mary Honeyman.
SJMC alum Tracy Baim, owner and founder of Windy City Media Group, a publishing company that serves Chicago's LGBTQ community, was featured in an NPR story on her efforts to promote the building of "tiny houses" for homeless LGBTQ youth. Tracy is also the author of a book on Obama and the gay community, has won a slew of journalism and community awards, including the Studs Terkel Award, and is a frequent national media commentator on gay advocacy issues.
Michael Santee, JO'12, has been nominated by the Ad Fed of Minnesota for the 2016 prestigious 32 Under 32 award, recognizing the talents of younger members in the advertising community. Mike was the Director of Research in the 2012 ad capstone.  He began his professional career immediately after commencement at Compass Point Media, a division of Campbell-Mithun, where he became Media Supervisor three years after commencement.  Since March he has been Programmatic  Media Director for Cramer-Krasselt in Chicago.
SJMC offering online summer classes
The SJMC is offering several online classes this summer:
JMC 99: Social Media Strategies (Info Lit AOI) – May 16 – June 3
JMC 66: Media Responsibility Over Time (Engaged Citizen AOI) – 2 Sections, both held May 16 – June 3
JMC 105: Web Page Design – May 16 – June 3
JMC 123: Public Relations Writing (Written Comm AOI) – May 16 – June 3
JMC 124: Ad Copywriting and Content Design (Written Comm AOI) – May 16 – June 3
JMC 76: Advertising Principles (Critical Thinking AOI) – July 5 – August 2
Smartphone video tools
Professor Chris Snider has published a list of tools for smartphone video. Snider teaches our class JMC 031 Multimedia Lab to first-year students. Students in that class create videos from their smartphones among other assignments.
Good luck on finals and have a great summer!
— SJMC faculty and staff