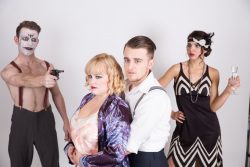 Drake University Theatre Department roars into the 1920s with the risqué prohibition era musical, The Wild Party, with music by Andrew Lippa.
The Wild Party explores decadence and recklessness in 1920s America. Lovers Queenie and Burrs decide to throw the party to end all parties in their Manhattan apartment. After the colorful arrival of a slew of guests living life on the edge, Queenie's wandering eyes land on a striking man named Black. As the decadence is reaching a climax, so is Burrs' jealousy, which erupts and sends him into a violent rage.
"This show is the largest choreography show I've ever done," director/choreographer Karla Kash said. "The Juggernaut, which is the biggest number in the show and just watching that come to life, and every night it becomes more clean and detailed, it's been such a blast."
The show runs Thursday, April 28, through Sunday, May 1, in the Studio Theatre of Harmon Fine Arts Center. Performances will start at 7:30 p.m. on April 28-April 30 and 2 p.m. on May 1.
In the midst of large and complex group dance numbers, the show explores the darker side of the relationship between the two main characters.
Junior musical theatre major Chris Bernard tries to find a balance when playing the role of Burrs, the show's resident bad boy.
"Burrs does and says a lot of things that would make it easy for an actor to play him as a demonized version of the character," Bernard said. "But, by making him a dynamic and relatable person, I really hope to challenge the audience with their decision of which character they side with by the end of the show."
The role of Queenie is played by senior musical theatre major Samantha Gatwood. Gatwood hopes her personal connection to the role will inspire her performance as well as the audience.
"I knew that if I were able to emotionally and physically become this character I could help the audience not only see an excellent show, but allow them to walk away learning that they too can have a hand in protecting the people around them. Knowing I could make a difference from this role, for my sake and for so many others who have experienced this sort of pain really helped me fuel the passion to truly commit and accept this role."
The Wild Party includes overt sexuality, drug use, alcohol use, and violence. It is intended for mature audiences only.
Admission is $8 for adults and $6 for students and senior citizens; tickets are available at the Fine Arts Box Office or online. Visit https://wwww.drake.edu/theatre/productions/fineartsboxoffice/ or call 515-271-3841 for more information.