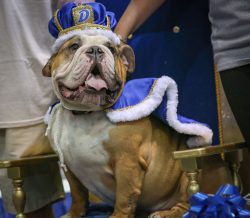 What a difference a year can make in the life of a courageous canine.
Nine months ago, a scrappy English bulldog was found wandering the streets of West Des Moines with no place to call home. He landed in foster care, and three months ago found a forever family with Meredith and Chad Green of Des Moines.
Today that 60-pound pup, now named Vincent, outshined 44 other English bulldogs from around the United States to be named winner of the 37th Annual Beautiful Bulldog Contest at Drake University. An audience of 1,400 people watched in the Knapp Center, with another 500+ watching online, as Vincent donned the ceremonial cape and crown—a true rags-to-royalty story.
"He had the look, the wrinkles, the nose, the happiness," said guest judge Kurt Van Auken, producer for STAR 102.5 radio in Des Moines. " His tongue was always wagging. It was pure joy looking at him."
Within a matter of hours, if tradition holds true, this formerly homeless bulldog will have his smiling mug splashed across hundreds of news outlets around the world. He'll serve as official mascot of the 107th Annual Drake Relays, which kick off this week with a full slate of community events around Des Moines and in Drake Stadium. He takes the crown from last year's winner, Tank, whose owner adopted him from Craigslist.
And Vincent deserves all the attention that's headed his way—because he brought much more to the contest than a snazzy floral shirt. While some of the pageant's pooches needed a string of treats—or wheeled chariots—to coax them across the stage, Vincent embraced the moment, impressing the judges with endless energy and enthusiasm.
"He's not your typical bulldog, where owners often talk about how theirs is so lazy," said Meredith Green. "Vincent is actually very active."
He loves to chase his sister, a tiny Yorkshire Terrier, around the house, run up and down the stairs, and chew on bones. Even without knowledge of his incredible backstory—and in the face of competitors dressed as peacocks, cowboys, butterflies, and Roman gladiators—Drake University Director of Athletics Sandy Hatfield Clubb said the judges had no trouble picking him for the lineup.
"It was a unanimous decision," Clubb said.
Van Auken, Clubb, and the other judges (Drake University President Marty Martin and his wife, Laura; Student Body President Kevin Maisto; and WHO-TV news anchor Erin Kiernan) awarded a handful of other awards, which recognize the animals who meet certain specialized criteria:
The Drake Spirit Award went to Deliylah, a veteran contestant who missed last year's competition because she was giving birth to four puppies. (Owner: Tressa Yeggy of Des Moines.) Three of Deliylah's puppies competed this year, including Daffodil, owned by Kerstin Stults of Ankeny, who was named third runner-up.
Best Dressed recognition went to Sir Winford James, owned by Brian Wahlen of Brown Deer, Wisc., and accompanied by bulldog companion Madison. All three wore formal attire: Sir Winford James and Brian Wahlen in black suits, ties, and fedora hats, with Madison in scarlet ribbon and a black dress.
Family Theme went to Mack, who wore a brown saddle, moppy grey tail and grey mane to mimic the look of a horse. His two-legged (human) brother Kenny wore a cowboy get-up as he led Mack across the stage; their mother, Jessie Drake of Omaha, Neb., said Mack's bark sounds like a pterodactyl.
Congeniality Award went to Tank, a highly social canine who loves to be out in the community and to be around people. His owner, Abbie Mork of Adel, said most days Tank goes to work with her at Price Performance Chiropractic or with his dad to 22nd Street Barbell.
The Rescue Dog Award was presented to Romeo, whose owner Michon D. Huston of Kansas City, Mo., rescued him from the Kansas City English Bulldog Rescue. Romeo has overcome many challenges, including learning to interact with humans and other animals; he tackled the competition this year in a pup-sized Drake Bulldogs football player's uniform.
Porterhouse People's Choice Award, named in honor of 2009 Beautiful Bulldog Contest winner and late Drake University live mascot Porterhouse, was awarded by popular vote to Meatball, whose favorite hobbies include eating, sleeping, and playing. Owner Alejandro DeAnda of Sioux City said Meatball's greatest fears are garbage bags and limes—luckily, none were present at the contest to trip him up.
Meatball was also named first runner-up in this year's contest.
View a Flickr gallery from the competition here: