The inauguration ceremony of Earl F. "Marty" Martin will install a new president and launch a new era—and flaunt the University's traditional jewels.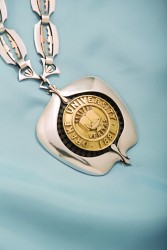 A rich history of pageantry will be on display during the investiture of Drake's 13th president on April 28. The University's ceremonial mace and presidential medallion were both handcrafted by Professor Emeritus Condon Kuhl of the Art Department. The medallion, which President Emeritus David Maxwell referred to as his "bling," was rushed to completion in time for the 1966 inauguration of Drake's eighth president, Paul Frederick Sharp. Originally hung on a blue and white ribbon sewn by Kuhl's wife, the medallion was later paired with a sturdy silver and gold chain engraved with the names and tenures of Drake's past presidents—more of Kuhl's artistic vision. Drake's ceremonial mace, five pounds of ebony and silver shaped and polished by Kuhl in 1983, was carried during investiture for the first time in 1986 as Michael Ferrari was installed as the University's 10th president.
Watch it all up close: Visit www.drake.edu/inauguration/guests for directions to campus and information on parking and accommodations.
Watch it online: Live stream the ceremony at www.drake.edu/stream and offer President Martin you congratulations using #CongratsMarty.