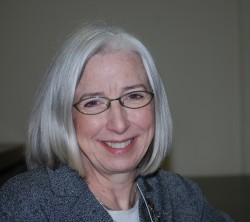 Lee Jolliffe, associate professor of journalism, authored one chapter and is first author on another, in the newly issued book An Indispensable Liberty: The Fight for Free Speech in Nineteenth-Century America, edited by Mary M. Cronin, of New Mexico State University.
In the lead chapter of the book, "A Press Ablaze: Violent Suppression of Abolitionist Speech, Press, Petition, and Assembly," Lee details the wide range of violence used against abolitionist speakers, publishers, preachers, and audiences. Using newly indexed 19th-century newspapers, she has discovered that far more violence was aimed at anti-slavery advocates than previous histories have led us to believe. A number of abolitionist speakers and preachers were murdered in the South, for instance.
In a co-authored chapter on the suffrage movement, "Incremental but Insufficient: Gains Offset by Suppression for Women's Rights Speakers," the authors found that jeering and harassment were the primary tools of anti-woman suffrage mobs, but sadly, previously unknown violence was again discovered. Lee's colleagues in writing this chapter are Sandra Davidson, University of Missouri, and Paulette Kilmer, University of Toledo.
The book is available from Amazon or from www.siupress.com.