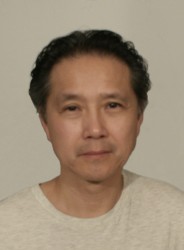 Phillip Chen, professor of drawing and printmaking at Drake University, recently received the 2015/2016 Pollock-Krasner Foundation Grant. The foundation has awarded Chen $20,000, for his work in printmaking. This is Chen's second major art grant after receiving the Louis B. Comfort Tiffany Award in 2006.
Established in 1985 through the generosity of the late Lee Krasner, one of the leading abstract expressionist painters and widow of Jackson Pollock, the Pollock-Krasner Foundation Grant is awarded annually on the basis of artistic merit, professional exhibition history, and demonstrated need for funding. Based in New York, the foundation provides international financial assistance to artists with established records in the areas of printmaking, photography, drawing, painting, or sculpture.
Phillip Chen received his B.F.A. degree from University of Illinois at Chicago and M.F.A. from the School of the Art Institute of Chicago. His prints have been exhibited in numerous locations nationally and internationally and are held in public collections that include Brooklyn Museum, New York Public Library, Carnegie Institute Museum of Art, Art Institute of Chicago, and San Francisco Museum of Fine Arts. His image making has been supported by the National Endowment for the Arts, Illinois Arts Council, Iowa Arts Council, and Louis B. Comfort Tiffany Foundation.
A collection of Chen's work was displayed in "Memory Prints: The Story World of Phillip Chen," a 2014-15 exhibition at the Museum of Chinese in America, New York City. Learn more about Chen and his work on the project through this video produced by SinoVision English.