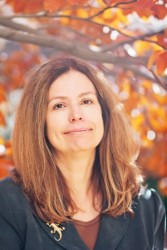 The Nelson Institute for Diplomacy and International Affairs at Drake University will host a talk by Valerie Hudson titled "National Security and Women's Insecurity." The talk begins at 7:30 p.m. Friday, April 8, in the Olmsted Center, 2875 University Ave. This keynote address is free and open to the public as part of an undergraduate conference on global affairs.
Hudson is a professor and George H.W. Bush Chair in the Bush School of Government and Public Service at Texas A&M University. In 2009, Foreign Policy named her one of the top 100 Most Influential Global Thinkers. Her co-authored book, Bare Branches: Security Implications of Asia's Surplus Male Population, and the research it presents, received major media attention and two national book awards. She also is co-author of Sex and World Peace, published by Columbia University Press and named by Gloria Steinem as one of the top three books on her reading list. Her current book project, with Patricia Leidl, is The Hillary Doctrine: Sex and American Foreign Policy. Hudson was also recently named a Distinguished Scholar of Foreign Policy Analysis by the International Studies Association.
The Nelson Institute for Diplomacy and International Affairs provides in-depth international knowledge and experiences for students who wish to pursue careers in international public affairs. The Institute was established in 2012 with a gift from R.W. and Mary Nelson, founders of Kemin Industries. For more information, contact David Skidmore, professor of politics and international relations at Drake University, at 515-271-3843 or david.skidmore@drake.edu, or visit https://wwww.drake.edu/nelsoninstitute/.