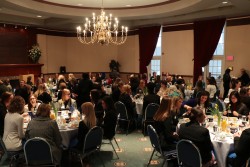 Students in the College of Business and Public Administration (CBPA) celebrated the role of women in business and leadership last month with a breakfast attended by faculty, staff, and community leaders.
The Women's Leadership Breakfast was held at Levitt Hall in Old Main on Friday, Feb. 26. Nearly 50 students joined with a group of CBPA faculty members and 27 female community leaders for the breakfast.
"This event serves as a valuable way to celebrate women in business, and provides an opportunity for our students to network and obtain advice from female leaders in our community," said Annette Watson, career development manager for the College of Business and Public Administration.
The college issued awards to eight female presidents of student organizations within the CBPA. They also heard leadership advice from Rebecca Graf, vice president of business development/strategic partnerships for General Growth Properties, and issued the "CBPA Women's Impact Award" to Denise Essman, president and chief executive officer of Essman/Companies.
Those Drake students who received awards were:
Kenia Calderon, Women's Business Organization (co-president).Junior management major, with a concentration in entrepreneurship, from Des Moines.
Brooklyn Contreras, International Traders of Iowa. Senior marketing and management major, with a Spanish minor, from Marshalltown.
Danielle Day, Ambassadors Club. Senior marketing major from South Elgin, Ill.
Whitney Hanson, Phi Chi Theta. Junior quantitative economics and international business major from Apple Valley, Minn.
Jenna Nelson, Alpha Kappa Psi. Junior marketing and information systems major with a minor in graphic design from Fairfield.
Anna Schmalzriedt, Women's Business Organization (co-president). Sophomore marketing and international business major from Des Moines.
Rachel Spitzig, Drake Actuarial Student Society. Senior actuarial science major from Geneva, Ill.
Jamie Zaine, Ambassadors Club. Junior finance major from West St. Paul, Minn.
Not in attendance, but also receiving awards, were:
Joe Yee Tai, Gamma Iota Sigma. Senior actuarial science and finance major from Seremban, Malaysia.
Ashley Abed, Delta Sigma Pi. Senior Actuarial Science major from Palos Hills, Ill.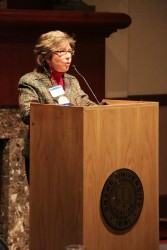 Essman, the Women's Impact Award recipient, was recognized for outstanding contributions and accomplishments that enhance her status as a role model to women professionals.
Essman oversees the Essman/Companies, which includes Essman/Research, a qualitative and quantitative marketing company; and Essman/Associates, an integrated marketing communications company. Both are located in Des Moines.
She earned her undergraduate degree from Iowa State University and a Master of Business Administration from Drake, and clocks more than 40 years of marketing research, planning and communications experience. She was honored as 2010 Woman Business of the Year by The Des Moines Business Record, and has served on the governing boards of a number of civic organizations including Iowa State University, the American Marketing Association, the Iowa Association of Business and Industry, and the Des Moines Pastoral Counseling Center.
"Denise Essman is a wonderful example of the type of leader we want our Drake students to emulate: intelligent, dedicated, and willing to give her best in all that she does," said Mary Edrington, associate professor of practice in marketing.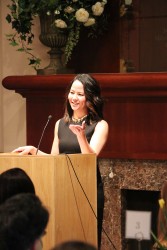 This year's Women's Leadership Breakfast also featured a keynote speech by Drake alumna Rebecca Graf, vice president of business development/strategic partnerships for General Growth Properties, the second largest shopping center developer in the country.
Graf's presentation to students was titled, "Stepping Outside Your Comfort Zone," and was accompanied by a handout with advice compiled from her industry peers on "what would you tell your 20-year-old self as you enter the workforce, knowing what you know now?"
"The CBPA Women's Leadership Breakfast is one of my favorite events each year, as it empowers us women in the Des Moines Community," said Katie Clausen, a senior marketing and information systems double-major. "I particularly enjoyed Rebecca Graf's message about pursuing something that scares you everyday to continually grow and challenge yourself. It is so true. She left us with a quote from Neale Donald Walsh, which states, 'Life begins at the end of your comfort zone.' It's an inspiring quote, which I think most of us connected well with!"