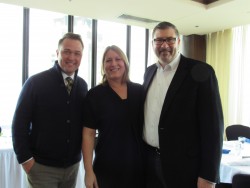 From a dark, well-aged watering hole to a tea shop with a new-age vibe; from the sleek lines and large scale artwork of a downtown hot spot to the traditional, tried-and-true greasy spoon eats at a local diner, the restaurant and bar scene in Des Moines has exploded in the last 10 years. And Drake alumni are leading the way, opening bistros, breweries, and bars as quickly as the people of Des Moines can digest their last meal.
Scott Carlson, BN'93, was among the first to reignite the dining scene in Des Moines. He opened Court Avenue Brewing Company (locally known as CabCo) 20 years ago, and it continues to be a downtown institution.
"It was just us, the old Johnny's, and Spaghetti Works down there," he reflected at Let's DU Lunch, the luncheon series hosted by the Office of Alumni and Development. "But as someone who came from the east coast, I recognized the need Des Moines had and that opening a successful restaurant here would be much more manageable than in Philadelphia or New York City."
His hunch was on the money. There are now more than 20 restaurants and bars in downtown's Court Avenue district alone. Carlson's holdings have expanded to the trendy Americana Restaurant & Lounge, a spot known for its not-safe-for-work cocktail names and expansive brunch, and Gilroy's, located at what more seasoned alumni might recognize as the old Jimmy's in West Des Moines. In fact, Carlson was a bartender at Jimmy's while he attended Drake.
Satisfy your hunger during Relays
We asked Scott Carlson and Sara Pritchard what they recommend trying while you're back in town for the Drake Relays in April:

Table 128
"We're always changing our menu so my favorite changes regularly, but I love our beef stew, which is short ribs and mashed potatoes with the most delicious brassage (a heavily reduced braising liquid). It's SO good."—Pritchard
Court Avenue Brewing Company
"Our wings are unbelievable, and our jambalaya has been on the menu for 20 years. We also have the best bread pudding in town."—CarlsonAmericana
"If you want a solid, awesome burger, get the Americana Burger. The lamb chops are to die for, too."—Carlson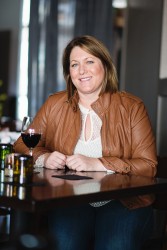 Carlson's work has laid the foundation for newer restaurant owners like Sara Pritchard, GR'10, and Chris Diebel, JO'03, GR'11. Pritchard owns Table 128, and is something of a pioneer in the land of chain restaurants west of 63rd Street in Greater Des Moines.
"Table 128 was a happy accident," she said. "I married a chef, and he is most happy when he is in a kitchen. Our type of business is a lifestyle choice. Our skills complement each other well, so it just seemed natural that we should do this together."
Scattered throughout the Des Moines metro are other alumni-owned establishments, including 515 Brewing Co., co-owned by Brandon Criger, BN'05, a popular stop for bikers from the nearby Clive Greenbelt Trail; Greenwood Lounge on Ingersoll Avenue, owned by Mike Hines, JO'72; and Lucca, a decidedly upscale eatery in the ever-trendy East Village owned by Steve Logsdon, AS'93, who has been nominated for the James Beard Award (think the Oscars for chefs) for Best Chef, Midwest, three times.
While Drake does not offer specific academic programs for those interested in the hospitality industry, many alumni got their start in the business at Drake. Diebel recalled knocking on Orchestrate Hospitality's door for an internship, which turned into a job with the firm that owns downtown Des Moines staples Centro and Django. He is now on his own, opening the restaurant Bubba's in downtown. Carlson worked as a bartender to pay for school. Pritchard earned her MBA from Drake shortly before opening Table 128.
"I learned a lot from my finance and accounting classes, where I feel like I was given real tools and an understanding of how to use them," said Pritchard. "Some of the relationships I developed with my professors and classmates have created relationships that I value tremendously."
And these Drake-educated culinary entrepreneurs are making an impact. In 2014, Women's Health Magazine named Des Moines the No. 1 Best Up-and-Coming City for Foodies, and a study by the Greater Des Moines Convention and Visitors Bureau found that dining is the No. 2 reason tourists come to town.
So the next time you return to the old stomping grounds or are wondering where to eat in Des Moines, consider supporting a fellow Bulldog while enjoying a satisfying culinary treat.
Are you Bulldog foodie? Does your work (or serious hobby) involve food—growing it, cooking it, inventing it, marketing it, styling it, writing about it, educating others about it? We want to hear from you. Email us at bluemag@drake.edu  with your story.