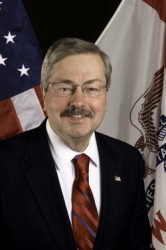 Iowa Gov. Terry Branstad, LW'74, the 2016 Drake Law Alumnus of the Year.

Iowa Gov. Terry Branstad, LW'74, has been named the 2016 Drake Law Alumnus of the Year.
He will be honored at the Law School's 79th Annual Supreme Court Celebration Banquet on April 2.
A native of Leland, Iowa, Branstad received his undergraduate degree from the University of Iowa and his law degree from Drake Law School. He also served in the United States Army.
Branstad was elected to the Iowa House of Representatives in 1972 and served three terms. He went on to serve as the lieutenant governor of Iowa from 1979-1983.
In 1982, at the age of 35, Branstad became Iowa's youngest serving governor. He served as the state's chief executive from 1983 to 1999, breaking the record of Iowa's longest serving governor. During this time he weathered some of Iowa's worst economic turmoil, including the farm crisis of the 1980s.
Following his four terms as governor, Branstad took a short break to work as a lobbyist and later president of Des Moines University (DMU) for six years.
In 2009, two students, including Drake Law alumnus Michael Bousselot, LW'09, started a movement on Facebook for Branstad to run for governor again. Branstad retired from DMU to launch his campaign. In November 2010, he was once again elected Iowa's governor with State Senator Kim Reynolds as his lieutenant governor. Branstad and Reynolds were re-elected in 2014.
On Dec. 14, 2015, Branstad broke the record for longest serving governor in United States history (7,642 days). The record was previously held by George Clinton, the first governor of New York, who served from 1777-1795 and 1801-1804.
"We are delighted to present Gov. Branstad with the Alumnus of the Year Award to recognize his passion for assisting Drake Law School," said Ben Ullem, Drake Law School dean. "Whether he is speaking to a 1L class during orientation or welcoming prospective students to the Law School, the governor is always willing to talk about how his Drake Law education helped pave his path to success in all his endeavors."
Drake Law School's Alumnus/Alumna of the Year award dates back to 1984, with previous honorees including Chief Justice Mark Cady, Roxanne Conlin, Gov. Robert D. Ray, Judge Larry Eisenhauer, and more.
See a complete list of past honorees.
The Supreme Court Celebration recognizes the history of academic excellence, leadership, and service at Drake Law School and honors the Law School's long-standing relationship with the Iowa Supreme Court.
Events throughout the celebration include the Drake Journal of Agricultural Law Dinner, Drake Law Review Dinner, and Drake Moot Court Luncheon before concluding with the Supreme Court Celebration Banquet on Saturday, April 2 in Parents Hall, Olmsted Center. The reception starts at 6 p.m., and dinner starts at 7 p.m.
In addition to recognizing the Drake Law Alumnus of the Year, the banquet will also include keynote speaker Paulette Brown, president of the American Bar Association, as well as other Law School award winners.
To find more information and RSVP to the banquet, visit the Supreme Court Celebration webpage.