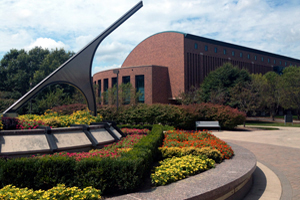 Drake University Law School has been recognized as a Top 25 Best Law School for Practical Training by The National Jurist.
The annual rankings, which are featured in the magazine's Spring 2016 issue, honor law schools that "go above and beyond in preparing law students for the real world."
Schools are rated based on a number of factors, including the percentage of students who participate in clinics, externships, simulation courses, and interschool skills competitions.
Drake Law School's ranking reflects the numerous experiential learning opportunities offered to students, beginning with the First-Year Trial Practicum.
Drake is the only law school in the country where all first-year classes shift to a campus courtroom for a week, enabling students to view an actual state or federal trial. The trial practicum dissects every phase of a trial, from jury selection to verdict.
"The First-Year Trial Practicum is a great experience," said Jerry Foxhoven, executive director of the Neal and Bea Smith Legal Clinic. "Students get to see a trial and learn how it works. It gives them something real and practical to relate to when they're studying the law in other classes."
In addition, Drake's Neal and Bea Smith Legal Clinic – which includes the Children's Rights Clinic, Criminal Defense Clinic, General Civil Practice Clinic, Transactional Business/Nonprofits Clinic, Elder Law Clinic, and more – gives students the opportunity to build valuable professional experience by working with clients in real-world situations.
As the only law school in the capital city of Des Moines, Drake Law students have countless opportunities to participate in internships, externships, and clerkships. Students have served as legislative interns, drafted legislation, tried and won felony jury trials, interned for the Iowa Supreme Court, worked for government agencies and nonprofits, and more.
Drake Law students also use their practical experiences to thrive in interschool competitions at the regional and national levels. This year alone, Drake's appellate advocacy team, client counseling team, arbitration team, and AAJ mock trial team have all advanced to the national finals of their respective competitions.
"Other schools are just now understanding the importance of practical experience, but Drake Law School has been doing this since our inception," said Andrea Charlow, Drake Law School associate dean. "We are also unique in that all our faculty have practiced law and bring that experience into the classroom."
This is the second year in a row Drake Law School has been named a Best Law School for Practical Training by The National Jurist. Drake has also been recognized as a Best Value Private Law School and a Best School for Small Law by the magazine.
Read more in The National Jurist's online publication.