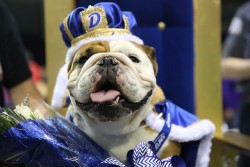 Drake University will hold a public lottery next week to select 50 contestants for its world-famous 37th Annual Beautiful Bulldog Contest. The lottery will begin at 6 p.m. Tuesday, March 22, on Pomerantz Stage in Drake's Olmsted Center, 2875 University Ave.
Over 80 English bulldogs are in the running for this year's lottery, all hoping to compete for the chance to be crowned the official mascot of the 2016 Drake Relays. With names like Romeo, Sweet Sassy Molassy, Wrinkles, Jarvis, and Sir Winford James, the contest is sure to be packed with a wide variety of bulldog personalities.
Entrants who are selected via the random lottery drawing will advance to the official Beautiful Bulldog Contest, set for Sunday, April 24, in Drake University's Knapp Center. A Rescue Dog Festival will begin at noon, with at least eight rescue organizations presenting adoptable canines, with the pageant to follow at 1 p.m. A pet food drive will also be held to benefit the Pet Project Midwest.
This year's group of bulldog hopefuls is particularly talented. For example:
Theodore has over 6,000 followers on Instagram @theodore_r_bulldog
Deliylah gives back to her community by working to put smiles on the faces of Alzheimer's patients
Leo is bilingual, recognizing words in both English and Spanish
Georgia Love stars in her own workout videos and has over 3,000 followers on Twitter @gloveritchey
Bessie is a registered therapy dog who provides stress relief to college students during finals week
If selected, this will be Addie's sixth year competing in the Beautiful Bulldog Contest.
Entrants hail from hometowns as close as Des Moines and as far away as California, with 16 rescue bulldogs as part of the energetic bunch.
The winner appears at the Drake Relays, to be officially honored as the Drake Relays mascot.