Is study abroad in Chile in your future?
Rosario Diaz, a representative from the International Relations Office at Drake's partner university in Santiago, Universidad de los Andes, will be in the International Center on Tuesday, March 8, 3:30-4:30 p.m., to tell you about your options at UANDES.
If the Tuesday time doesn't work for you, contact Gretchen Beckley at gretchen.beckley@drake.edu or 271-2084 to schedule another time to learn about all the opportunities UANDES offers.
Alum Greg Swan visits advertising class

Greg Swan, JO'03, above left, VP of Media, PR and Emerging Media at space150 in Minneapolis, visited Professor Dorothy Pisarski's advertising principles class last week. Said Pisarski of Swan's visit: "He is a futurist, bringing technology into use as it first becomes viable.  He wowed us with some things his agency is doing.  More importantly, he reminded students several times that the basics of communication they learn in SJMC are still fundamental regardless of the delivery mechanism."
Reminder: J Term Fair today
The annual January Term Fair will held today, March 7, from 4:15 to 6:16 p.m. in Parents Hall. There will be information about both on-campus and off-campus classes, housing, finances and registration.
Head's up about fall registration
Faculty are starting to post sign-up sheets for advising for fall registration, which begins April 4. If you don't know who your adviser is, check the list outside Mer. 119.
Also: The last day to drop a class with a "W" grade is Friday, March 25.
Follow drakejmc on Snapchat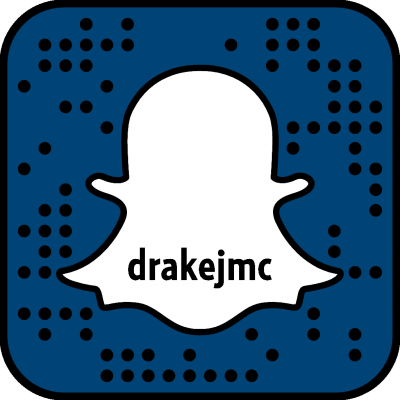 Three Drake SJMC students will be creating content for the DrakeJMC Snapchat account for the rest of the semester. Be sure to follow along.
And if you're interested in helping with the account in the future, please see professor Chris Snider.
Deadline approaches for Global Learning Scholarships
Global Learning Scholarships are available for students who are studying abroad, participating in global service-learning, or participating in experiential learning abroad. These need-based scholarships are open to students studying abroad Summer 2016, Fall 2016 or J Term 2017.  The application deadline is Tuesday, March 22. For more information, or to apply, visit this link. If you have any questions please contact Maria Rohach, global learning program coordinator, at maria.rohach@drake.edu.
Advertising students attend Twin Cities 'summit'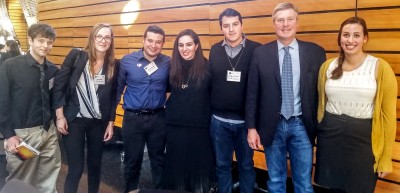 Six Drake students and Professor Dorothy Pisarski attended the Student Ad Summit in Minneapolis on March 25-26, along with the President and CEO of BBDO, John Osborn (second from right above).  Nearly 300 students from six states participated in the event.
SJMC student recognition event on April 10
The annual SJMC student awards and recognition reception is Sunday, April 10, 4-6 p.m. in Levitt Hall of Old Main.
Need your resume reviewed?
Social Media Club DSM board members will review student resumes on March 29 from 6-8 p.m. See more info on the Facebook event post.