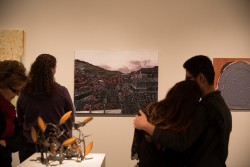 The Anderson Gallery recently celebrated the opening of the 45th Annual Juried Student Art Exhibition with a public reception and award ceremony. At last weekend's ceremony twelve students were awarded prizes and high honors for their artwork, currently on display as part of the exhibition. The awards, termed Juror's Choice Awards, were determined by the visiting juror, Matthew Harris, who also was charged with selecting all of the works on display from nearly 100 student submissions. Harris is the administrator of the Iowa Arts Council, a branch of the Iowa Department of Cultural Affairs dedicated to community arts support and outreach.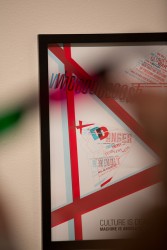 President Marty Martin and his wife, Laura, presented Juror's Choice Awards to the following students: Paul Brenin, Brett Budzinski, Monica Campbell, Hannah Erickson, Olivia Hockey, Rachael Kreski, Amy Mathews, Pamela Mulhern, Linzi Murray, and two awards to Ryan Topete. Additionally, Provost Joseph Lenz awarded the "Provost Purchase Award" to student Emily Walton. Her digital print, titled "Swoosh Vroom Woosh" will be purchased by the University and placed in the Provost's office after the exhibition.
The annual juried exhibition features work by students from all studio and design disciplines. This year, the show includes over fifty works representing nearly thirty students from the Department of Art and Design, including several large-scale paintings and installations, carefully detailed etchings and drawings, handmade books, and works in new media. The exhibition is currently on display and will remain open to the public until March 25; however, the gallery will be closed March 12-21 for Spring Break.
About the Anderson Gallery
The Anderson Gallery was established in 1996 as a dedicated space for the exploration of contemporary art and design. Additionally, the gallery hosts curated exhibitions of historically significant work, as well as annual showcases of student work from the Department of Art and Design. We are a not-for-profit branch of the department, occupying a versatile 1800 sq. ft. space on the first floor of the Harmon Fine Arts Center.
The Anderson Gallery is open six days a week: Tuesdays, Wednesdays, and Friday through Sunday, 12 p.m to 4 p.m; and extended hours on Thursdays from 12 p.m. to 8 p.m. We are closed on Mondays and during University holidays. Additional information is available by calling (515) 271-1994 or by visiting theandersongallery.wordpress.com.