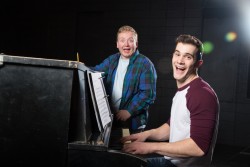 The Drake University Theatre Department is starting the spring semester off strong with a repertory showcase featuring two student-directed shows. The showcase begins Thursday, Feb. 25, in the Studio Theatre of Harmon Fine Arts Center, 2505 Carpenter Ave.
[title of show], the first in the showcase, is playing at 7:30 p.m. Thursday, Feb. 25 and Saturday, Feb. 27, and at 2 p.m. Sunday, Feb. 28.
Fuddy Meers is playing at 7:30 p.m. Friday, Feb. 26, at 2 p.m. Saturday, Feb. 27, and at 7:30 p.m. Sunday, Feb. 28.
[title of show] is a musical about two guys writing a musical about two guys writing a musical. Writing and composing team Hunter and Jeff, along with their best friends Susan and Heidi, explore what it takes to create an original musical and chronicle the way it progresses from a fever dream to a hit Broadway show. The musical has music and lyrics by Jeff Bowen, book by Hunter Bell, and is student-directed by Violet Saylor.
"This show allows theatre artists' work to be seen and brings those not involved into the process that we go through," said Saylor, a senior directing major.
[title of show] features a four-person cast, including first-year musical theatre student Jackson Kealy, who plays the role of Hunter.
"It's a great show about pursuing your dreams and taking it upon yourself to change things for the better," Kealy said.
The second show in the repertory, Fuddy Meers, explores a day in the life of Claire, a woman with psychogenic amnesia; she wakes up every morning not knowing who she is. Over the course of this particular day, she must try to discover the truth about her past with the help of her deformed, half-blind, half-deaf brother, her dyslexic, pot-smoking son, a profane puppet with a violent history, and many other zany characters.
"Listen to every word, because in every line there is a little bit of a clue as to what's going on the whole time, because the story is a puzzle that unravels," recommends cast member Haley Ashlin, a junior musical theater major.
The production is directed by Eric Deutz, a senior musical theater major, and features a seven-person cast.
Admission to each show is $7 for adults, $5 for students and senior citizens, and $2 for those with a Drake ID. Tickets are available at the Fine Arts Box Office as well as online. Visit https://wwww.drake.edu/theatre/productions/fineartsboxoffice/ or call 515-271-3841 for more information.