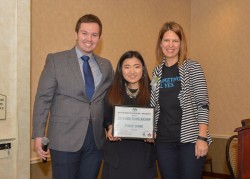 Eunice Chang, a junior marketing and accounting major, has been awarded the 2015 Iowa American Marketing Association Scholarship. The $1,500 scholarship is awarded annually in partnership with Casey's General Store to an undergraduate member of AMA Iowa in recognition of outstanding leadership, high academic achievement, and active participation in the marketing profession.
"The AMA Iowa Scholarship evaluates candidates on academic achievement, AMA chapter leadership, recommendation letters and strength of the application," said Kendra Kelly, president of AMA Iowa. "Eunice was the most well-rounded of our applicants and in particular had a high GPA and strong letters of recommendation."
Chang has been heavily involved in marketing, working as a digital marketing analytics intern for CNBC in New York for four months in the summer of 2015, and as a digital media marketing and search engine optimization intern for the Meredith Corporation for the 2014-2015 school year. Soon, Chang will begin another internship.
"Eunice Chang gives her best in all that she does, and her results are impressive," said Mary Edrington, associate professor of practice in marketing and the internship coordinator for Drake's College of Business and Public Administration. "She is an enthusiastic student, and, although a newer member of Drake's AMA, she is very focused on contributing to our projects and activities."
Through the AMA, Chang has recently started work on the Coca-Cola Project, an annual opportunity provided by the Atlantic Bottling Company for AMA students to provide a solution for a problem the company is facing.
"As a working student, I feel very blessed and thankful to have received this scholarship," said Chang. "It's amazing to know that marketing students have a support system outside of the university that's directly related to our future career path."
Previously, Chang has been selected to attend Principal Financial Group's Women in Asset Management Conference, and Piper Jaffrey's Women in Finance Conference. Both conferences strive to highlight career options and provide networking opportunities for women interested in careers in the financial services industry.