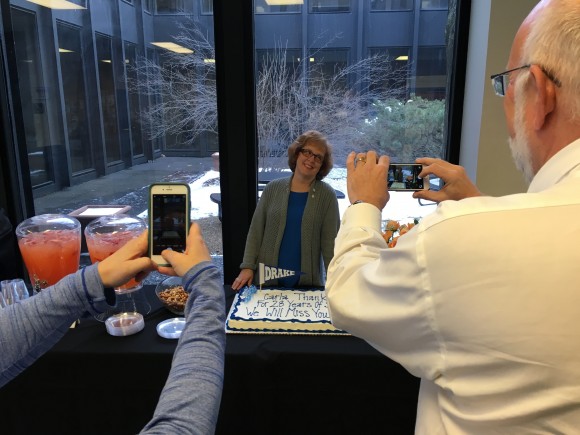 Stop by Mer. 119 and sign Carla's retirement card
SJMC dean's assistant Carla McCrea is retiring on Wednesday after 28 years at Drake. Stop by her office, Mer. 119, to say goodbye and sign her retirement card.
SJMC students win Iowa college media awards
SJMC students won 25 awards last week in the Iowa College Media Association awards. Highlights included first and second place in online edition; a sweep in interactive design; a first place in investigative reporting; and awards representing photography, writing, design, social, and multimedia. The awards represented material published in the Times-Delphic; the senior capstone website Urban Plains, and Drake Magazine. Details are elsewhere on the SJMC website.
'Run Carlos Run' coming to Drake
The E.T. Meredith Center for Magazine Studies will host a visiting professional, documentary filmmaker Carlos Ibarra, on Monday, Feb. 15 and Tuesday, Feb. 16. Ibarra will showcase several videos from his documentary series "Run Carlos Run" on Tuesday, Feb. 16, at 7 p.m. in Cowles Reading Room. The event is free and open to the public. "Run Carlos Run" follows Ibarra as he embarks on a cross-country run from Brooklyn to California, and the stories of the people he meets along the way, seeking to understand the modern American Dream.
Want to make things happen?
The SJMC is brainstorming with other disciplines on campus to explore a multi-disciplinary center where creative people  — writers, musicians, artists, designers, entrepreneurs — can meet and collaborate on innovative projects. An introductory meeting will be held this Wednesday, Feb. 10, at 6 p.m. in lower Olmsted. Pizza and refreshments will be served.
Pick up a scholarship form for 2016-17
Applications for scholarships for the 2016-17 academic year can be picked up from the table outside Mer. 119.
Dress to impress at Drake Career Fair
Professional and Career Development Services is hosting a career fair on Thursday, Feb. 11, in Olmsted Center: Seniors only 3-3:30 p.m., all students 3:30-6 p.m. Research the companies ahead of time at www.drake.edu/career/careerfair Dress professionally and bring an updated resume to meet with potential internship and job employers. If you have any questions, contact SJMC internship coordinator Carlyn Crown (carlyn.crowe@drake.edu).
Learn more about Harkin Institute internship scholarship
The Harkin Institute for Public Policy and Citizen Engagement provides housing and transportation to a Drake undergraduate student with financial need who has secured a summer internship in a congressional office, government agency, or nonprofit organization in Washington, D.C. This scholarship is designed to expose the student to policymakers and the policymaking process. An informational meeting will be held on Thursday, Feb. 11, at 7 p.m., at The Harkin Institute, 2429 University Ave. For more information or to obtain an application form, contact Amy Beller at amy.beller@drake.edu or 515-271-2875.
Free info architecture event
World Information Architecture Day, a free professional development and community event, is scheduled for Feb. 20 in Des Moines.
Local event site: http://wiaddsm2016.eventbrite.com
Twitter account: http://www.twitter.com/wiaddsm
Global event site: http://www.worldiaday.org
A dozen speakers from companies including Workiva, Mittera, Geonetric and Meredith Xcelerated Marketing will lead talks and workshops on topics relating to the design discipline of information architecture.
A few of the scheduled talks:
Architecting the Onboarding Experience
Top Task Information Architecture: Bringing Clarity to your Focus
Card-Sorting With Kittens
UX Kits: Why You Need Them and How to Build Them
It's a great opportunity for anyone involved in user experience design, software development, website content or digital marketing.
The event is free to attend. A $12 lunch ticket is available. Registration is required and capacity is limited.
APME digital workshop coming to U of Nebraska
Register now for a full day of cutting-edge journalism training on Saturday, April 9, at the University of Nebraska in Lincoln.
 For just $75, you can register for APME NewsTrain and get a full day of digital training, including meals. The workshop is for from print, digital and broadcast journalists as well as journalism educators and students. Sessions include:
 Maximizing social media for personal branding and audience engagement

 

Making smart choices in digital storytelling
Planning for breaking news in the digital age
Writing for mobile
Producing data-driven enterprise stories off your beat
 Trainers include Theodore Kim, senior staff editor at The New York Times and former mobile editor at The Washington Post, and Matt Wynn, watchdog reporter at the Omaha World-Herald and developer of dataomaha.com and curbwise.com.
Seats for the workshop are limited. Register now at: http://bit.ly/LincolnNewsTrain
 A more detailed look at the workshop agenda:
http://c.ymcdn.com/sites/www.apme.com/resource/resmgr/NewsTrain/Lincoln_NewsTrain_agenda_Apr.pdf
 Competitive scholarships that cover the $75 registration fee are available for journalists, journalism educators and journalism students from diverse backgrounds. The scholarships are funded by the APME Foundation. Apply by March 8 (information is in the right-side rail).
 Discounted hotel rooms — an eight-minute walk from the workshop venue — are available for $129 a night, plus tax. Register before March 12 to get the special rate.