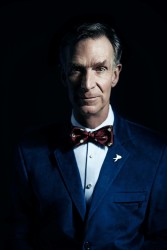 Bill Nye, renowned scientist, inventor, and host of Bill Nye the Science Guy, will deliver the 36th installment of the Martin Bucksbaum Distinguished Lecture Series at Drake University. "An Evening with Bill Nye the Science Guy" is scheduled for 7 p.m. Thursday, April 14, in Drake's Knapp Center. The lecture is free and open to the public. All seating is general admission and no tickets are required.
Nye is most recognized for his role as the energetic, bow tie-wearing host of the Emmy-winning Bill Nye the Science Guy, an educational comedy program that aired on PBS Kids from 1992 to 1998. His influence within the scientific community and in popular culture has endured for decades—a legacy shared by another of Drake's recent Bucksbaum lecturers, astrophysicist Neil deGrasse Tyson.
"Bill Nye has inspired multiple generations to dive into science and to embrace their curiosity about the world around us," said Neil Hamilton, chair of the Martin Bucksbaum Distinguished Lectureship Committee. "We share Nye's commitment to the value of inquiry, discovery, and scientific literacy, and we look forward to his lecture complementing Drake's other major projects—like the $65 million STEM@Drake initiative—that elevate and enhance STEM education in Des Moines."
Nye will hold a book signing for his latest work, "Unstoppable: Harnessing Science to Change the World." The book challenges today's generation to make a cleaner, more efficient, and happier world.
Nye's many television projects include 100 Greatest Discoveries, Battlebots, The Eyes of Nye, and Stuff Happens. Beyond the small screen, Nye serves as CEO of the Planetary Society, the world's largest space-interest group. As an inventor, he has several patents for inventions such as an improved toe shoe for ballerinas and a magnifier made of water. His first book for a general audience, Undeniable: Evolution and the Science of Creation, was featured on the New York Times bestseller list. He has also written five children's books about science, including Big Blast of Science and Bill Nye's Consider the Following. Nye's 2012 Reddit AMA (Ask Me Anything) session is one of the 20 most popular in Reddit history. He frequently speaks at colleges and appears on news and television programs to discuss a variety of topical issues in science.
Nye has a Bachelor of Science in Mechanical Engineering from Cornell University, and has also been awarded six Honorary Doctorate degrees from universities such as Johns Hopkins University and Willamette University. In 2010, he was named the American Humanist Association's Humanist of the Year, an honor he shares with Carl Sagan, Kurt Vonnegut, and Gloria Steinem, among others.
About the Martin Bucksbaum Distinguished Lecture Series
The Martin Bucksbaum Distinguished Lecture Series is made possible by a gift from the late Melva and Martin Bucksbaum. The Martin Bucksbaum Distinguished Lectureship Committee includes: Neil Hamilton (chair), Julian Archer, James Autry, Pamela Bass-Bookey, Michael Gartner, the late G. David Hurd, Janis Ruan, Mary Bucksbaum Scanlon, and Eleanor Zeff.