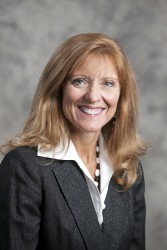 Following a national search, Renae Chesnut, professor of pharmacy practice, has been named dean of the Drake University College of Pharmacy and Health Sciences (CPHS), effective immediately. She has been serving as interim dean since June 2015.
Chesnut earned her bachelor of science in pharmacy, master of business administration, and specialist and doctorate of education degrees from Drake University. She joined the Drake faculty in 1993, and served as associate dean of academic and student affairs in the CPHS since 2004.
Chesnut has been recognized as the CPHS Mentor of the Year twice, and received the Donald V. Adams Spirit of Drake Award in 2009. She has served on Faculty Senate and has been the Faculty Athletic Representative to the NCAA and Missouri Valley Conference since 2000. She is a past president of the Iowa Pharmacy Association, is a member of the Cardinal Health Women in Pharmacy Advisory Board, and was the 2014 recipient of the national Lambda Kappa Sigma Vanguard Leadership Award.
"Renae Chesnut brings to the position of dean a rich knowledge of her college and the University, an extensive range of experience, a broad network of contacts with alumni and health professionals, and a near inexhaustible energy for innovation," said Drake University Provost Joe Lenz. "Her commitment and collaborative spirit have accelerated the success of the College of Pharmacy and Health Sciences and Drake University."
Chesnut says she hopes to enhance the college's reputation as a premier institution at the leading edge of education, scholarship, and service. As interim dean, she has been instrumental in the development and implementation of the college's new Occupational Therapy Doctorate (OTD) and Masters in Athletic Training (AT) programs, as well as the pre-professional OTD and AT programs, which are currently recruiting for fall 2016.
She prioritized the CPHS' early adoption of Drake's balanced scorecard continuous improvement and strategic planning initiative. She also facilitated the incorporation of technology that enhanced student services and the quality of the learning environment.
Through her leadership and administration of the DELTA Rx Institute, she has helped to instill a spirit of change and innovation in the pharmacy profession. The DELTA Rx Institute promotes entrepreneurial leadership in pharmacy, creating leaders who work to advance the profession of pharmacy by identifying and pursuing new opportunities to create value for patients and society.
"As a four-time Drake degree-holder, with two decades of professional experience on campus, I am deeply committed to the rich tradition of educational excellence for which Drake University is nationally known," Chesnut said. "I am energized by the professional challenges presented by serving as dean, and excited about the opportunity to advance the college's mission to provide an intellectually stimulating learning environment that emphasizes collaborative learning and excellence in professional education, service, and leadership."