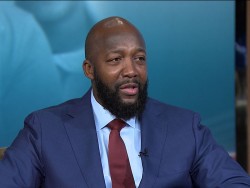 Tracy Martin, father of Trayvon Martin, will visit Drake's campus on Saturday, Feb. 13, for an event sponsored by the Coalition of Black Students (CBS) as part of Black History Month programming.
CBS President Jacques Goavec, a politics major and participant in the Crew Scholars Program, said the organization wanted to invite an influential African American speaker who would spark a crucial discussion among Drake students and the Greater Des Moines community in the wake of a number of controversial race-related events, including the killing of Trayvon Martin by a neighborhood watch volunteer in February 2012.
"We need to hear people like Mr. Martin talk, especially considering the fact that the loss of his son Trayvon sparked such a large national discussion about race relations, both in the context of the law and between everyday individuals," Goavec said. "Being able to hear someone like him, who has undergone such a tragedy, will be eye-opening and could spark action to call for change."
The lecture, which is free and open to the public, will be held from 5 to 7 p.m. Saturday, Feb. 13, in Sheslow Auditorium, 2507 University Ave. The format will include a brief lecture, a moderated conversation, and an audience Q&A session. No tickets are required. Goavec said the format is designed to respect and honor Mr. Martin's grief while joining him in a discussion of the difficult questions that follow in the wake of his son's death.
Professor Melisa Klimaszewski, faculty adviser for the Coalition of Black Students, says the event emerged from the student organization's wish to contribute to conversations surrounding the Black Lives Matter movement that emerged following the killing of Trayvon Martin and other black citizens.
"Mr. Martin's visit, inspired and organized by black student leaders and supported by Drake's upper administration, shows Drake's increasing investment in addressing racial injustice," Klimaszewski said. "We believe that the evening with Mr. Martin will be an important event in the Des Moines community as we discuss perceptions of black youth, legacies of grief, and the difficulties of the present moment."
The talk is co-sponsored by the Slay Fund for Social Justice, the Office of the Provost, the Dean of the College of Arts and Sciences, the Medbury Fund, the Women and Gender Studies Program, and the Center for the Humanities. Attendees may submit questions that they would like the moderator to ask Martin by following this link.