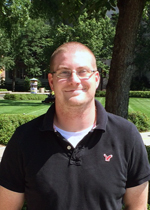 Drake University alumnus Andy R. Johnson recently was selected as a 2015 Baxter Young Investigator in recognition of his research accomplishments. The award stimulates and rewards research that can be directly used for critical care therapies and the development of medical products that save and sustain patients' lives.
Johnson received his bachelor's degree in chemistry and biochemistry, cell and molecular biology from Drake University in 2011. During his undergraduate research under Mark Vitha, the Windsor Professor of Chemistry at Drake, Johnson studied the fundamentals of chromatographic selectivity.
"Drake prepared me very well for graduate school," Johnson said. "The coursework of course was important, but I think the most important factor was Drake's emphasis on undergraduate research. Having that experience gave me a large leg up in graduate school."
Johnson is now in his fifth year of graduate studies in the laboratory of Professor Erin E. Carlson in the Department of Chemistry at the University of Minnesota. After graduating from Drake, he enrolled in the doctorate program at Indiana University in analytical chemistry, joined the lab of Erin Carlson and began work in natural products discovery. He relocated to the University of Minnesota with the Carlson Group.
Johnson's current research focuses on the development of new analytical and informatics tools in the study of natural products, a rich source of therapeutic agents. Specifically, he is incorporating mass spectrometry-based techniques to enable rapid characterization of unknown compounds without the need for time-intensive purification efforts, streamlining the drug discovery process.
He is focused on the incorporation of cutting-edge techniques to the structure elucidation process, namely ion mobility spectrometry, which provides information about the size and shape of molecules. Molecular modeling assists in the interpretation of these experimental results and prioritization of candidate structures for further study.
As he looks back on his time at Drake, he values the Drake University Science Collaborative Institute, which promotes a culture of scholarship among students and faculty in science and math, as well as the accessibility of Drake faculty members.
"I was able to learn in a 1-on-1 environment with my professors during research projects in a way that wasn't possible in class," Johnson said. "I learned a lot of 'real-world' skills like technical writing, presenting effectively, experimental design, and other skills that aren't conveyed as well through coursework."