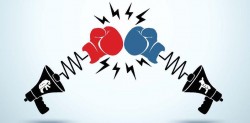 At a time when many Americans believe civil discourse has declined in American politics, the Ray Center at Drake University and The Des Moines Register will co-present a panel discussion on the state of civility in politics. Panelists for the free January 13 event will explore what voters can do to demand respect and civility from their candidates and elected officials, and how all Americans can create a political system in which civil debate is the expectation and not the exception.
Panelists will include:
Eric Woolson, Republican political strategist
Jessica Vanden Berg, Democratic political strategist
Brandi Dye, student, Drake University
Visit this link to RSVP and submit your questions for the panel.
The panel is hosted in conjunction with the Ray Center's "Show Some Respect" campaign, which promotes respect and civility. The Community Foundation of Greater Des Moines, Interfaith Alliance of Iowa, and the Greater Des Moines Partnership are co-presenters of the campaign and the January 13 panel discussion.