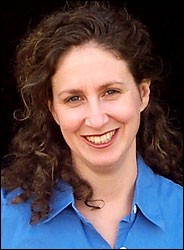 Legal journalist and attorney Dahlia Lithwick will present "Uncovering the U.S. Supreme Court" at a lecture co-sponsored by the American Constitution Society-Drake Law School student chapter and the Drake University Constitutional Law Center.
The event is free and open to the public. It will be held Thursday, Dec. 17, 4:30 p.m., in the legal clinic library at the Neal and Bea Smith Law Center (2400 University Avenue).
Lithwick is a senior editor and legal correspondent for Slate magazine, where she covers the courts and the law. She contributes to the columns "Supreme Court Dispatches" and "Jurisprudence" as well as the "Amicus" podcast series.
Her work has appeared in The New Republic, The Washington Post, and CNN.com. She was a legal commentator for the NPR show "Day to Day," a regular guest on "The Al Franken Show," and has been a guest columnist for The New York Times op-ed page.
Lithwick is co-author of Me v. Everybody: Absurd Contracts for an Absurd World (Workman Publishing, 2003), a legal humor book, and I Will Sing Life: Voices from the Hole in the Wall Gang Camp (Little, Brown & Co., 1992), a book about seven children from a camp founded by Paul Newman for children with life-threatening illnesses. In 2001, she was awarded the Online News Association's award for online commentary.
Lithwick received her bachelor's degree in English from Yale University in 1990 and a J.D degree from Stanford Law School in 1996. Before joining Slate, she worked for a family law firm in Reno, Nev., and clerked for Procter Hug, chief justice of the ninth Circuit Court of Appeals.
The American Constitution Society is a legal organization promoting the U.S. Constitution and the values it expresses, including individual rights and liberties, genuine equality, access to justice, and democracy. The Drake Law School student chapter is one of approximately 200 student chapters across the nation.
The Drake Constitutional Law Center is one of only four constitutional law programs established by the U.S. Congress and funded by the federal government. The Center's mission is to foster study of the U.S. Constitution and its roots, formation, principles, and development.
*This program is approved for one hour of Federal and State CLE credit (Activity Number: 210115).
For more information, contact Drake Law School at 515-271-2988.